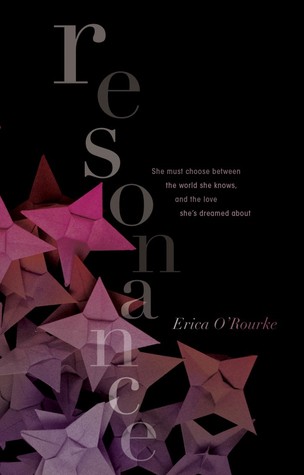 Release date: July 21, 2015
Publisher: Simon & Schuster Books for Young Readers
Genre: YA Sci-Fi/Romance
Series: Dissonance #2


As a Walker between worlds, Del is responsible for the love of her life—and the fate of millions—in this thrilling sequel to Dissonance.

Del risked everything to save Simon, and now he's gone, off in another world with no way for Del to find him.

She's back at the Consort—training to be a Walker like everyone in her family. But the Free Walkers have other plans for her. This rebel group is trying to convince Del that the Consort is evil, and that her parents are unwittingly helping the Consort kill millions of people. The Free Walkers make Del the ultimate promise: if Del joins their fight, she will be reunited with Simon.

In agreeing, Del might be endangering her family. But if she doesn't, innocent people will die, and Simon will be lost to her forever. The fate of the multiverse depends on her choice...


My Rating: 4 Roses
A sequel that revealed quite a few secrets,
Resonance
was an excellent YA read. There were plenty of twists and unexpected surprises, along with a great story and sweet romance. I really liked this book.
Del was mostly good in this book. She got stronger, smarter, and much more prepared for everything thrown at her. However, I found myself getting annoyed with her on more than one occasion because her view of things seemed so strictly black and white. It was enough to irritate me but not enough that I didn't still like her character.
Simon was as sweet as ever. He was determined to stand by Del in any situation, even when things got a little...strange for him. I still thought he was adorable.
The romance was great. Del and Simon's feelings for each other made them into a stronger team and they really proved that in this book.
The plot was a little slow to start but, once it got going, I was kept interested the rest of the way through. There were tons of surprises in store and the story definitely managed to be unpredictable. And the ending tied things up nicely.
Resonance
was a fantastic YA read that lives up to the first book. I really liked it, from the thrills, to the romance. YA lovers, this book, and its predecessor, and worth the read.
*I received a complimentary copy from the publisher in exchange for an honest review