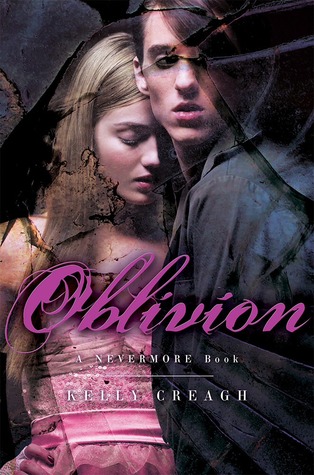 Release date: July 28, 2015
Publisher:

Atheneum Books for Young Readers


Genre: YA Gothic/Romance
Series: Nevermore #3


This electrifying conclusion to the Nevermore trilogy takes one last trip to the dream world of Edgar Allan Poe to reveal the intertwined fates of Isobel and Varen.

The boundaries which divide Life from Death are at best shadowy and vague. Who shall say where the one ends, and where the other begins? —Edgar Allan Poe

The fine line between life and death blurred long ago for Isobel Lanley. After a deadly confrontation with Varen in the dreamworld, she's terrified to return to that desolate and dangerous place. But when her nightmares resume, bleeding into reality, she is left with no choice. Varen's darkness is catching up to her. To everything. Threatening to devour it all.

Isobel fears for her world. For her sanity and Varen's—especially after a fresh and devastating loss. To make matters worse, the ghostly demon Lilith wants Varen for her own, and she will do anything to keep him in her grasp—anything.

Can Isobel ever find her happy ending? Worlds collide and fates are sealed in this breathtaking finale to the Nevermore trilogy.


Goodreads

/

Amazon

My Rating: 5 Roses
Deliciously dark, wonderfully thrilling, and an ultimately satisfying conclusion to the Nevermore trilogy,
Oblivion
was a fantastic read. I really liked this dark book, complete with its twists, secrets, and final showdown with Lilith. All of it was excellent.
Isobel really proved, once and for all, that she was one tough lady. She would find a way into the dream world, battle its inhabitants, and challenge its leader, all to save someone she loved (and, really, the entire world as well). I already liked her character and this book was just further reason to think she was a total badass.
I'm really glad that we got to see more of Varen in this book. What most annoyed me about the second book was that one of the main characters was barely there and I'm happy that it wasn't a problem in this book. I can't give too much away about what happened to him but I will say that I was relieved to see him fighting his fate and trusting Isobel. Needless to say, I still adored him.
The romance played a larger role in this book than the previous, though it still wasn't too heavy. Ultimately, the story was about defeating Lilith but that couldn't happen without Isobel and Varen's bond and the possibility of it transcending Lilith's hold on Varen. I love Isobel and Varen as a couple but did the get a happy ending? My lips are sealed :)
The plot was wonderful, fast paced and thrilling enough to keep me hooked. There were plenty of twists, a few secrets, and tons of that delightfully creepy darkness that made me like the previous books so much. I really liked the story and I loved the conclusion to the Nevermore tale.
Oblivion
was a darkly brilliant, absolutely fantastic ending so a great series. Delightfully twisted, thrilling, and just wonderful in general, this book definitely won't disappoint fans of the series. YA lovers, this book, and, really, the whole series, is definitely worth the read.
*I received a complimentary copy from the publisher in exchange for an honest review