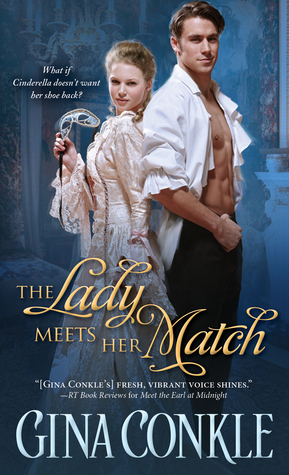 Release date: April 7, 2015
Publisher: Sourcebooks Casablanca
Genre: Historical (Georgian) Romance
Series: Midnight Meetings #2


Finding Her Is Only Half The Battle...
Cyrus Ryland didn't become England's wealthiest bachelor by being a pushover, but the mysterious beauty he discovers sneaking around his study during a grand ball enflames his curiosity. They share one dance, but when the clock chimes midnight, she's nowhere to be found. So Cyrus vows to scour all of London to uncover who she is.

Claire Mayhew is risking it all by forging Ryland's signature. But the maddening man won't lease properties to an unmarried woman. He stands in the way of Claire's dream: running her own business. The midtown property fits her plans perfectly—a place to live as an independent woman of commerce. When she sneaks into his study and forges his signature, she never expects to be attracted to the stodgy bachelor. But if he finds out who she is, all of her dreams could go up in smoke…


My Rating: 5 Roses
A charming romance that showed a slice of life from the oft-overlooked middle class of the era,
The Lady Meets Her Match
was a lovely read. With engaging character and sweet romance, this book was a thoroughly enjoyable romance.
Claire was a great heroine. She was clever and determined to be independent. Though, at first, she thought being independent meant being alone, she realized over the course of the books that it wasn't necessarily true, with the right man. I thought she was a lovely character.
Cyrus was a delight. Extremely smart and driven, his number one focus in life was to take care of his family. Nothing was more important to him that ensuring their safety. And, when he fell for Claire, that umbrella of protection expanded to include her as well. Add to that how sweet he could be and we have a perfect hero.
The romance was very sweet. Claire and Cyrus were infatuated with each other from when they first met and it didn't take long for those feelings to deepen. They had genuine respect for each other, which made them a couple that was on equal footing. And, they definitely had enough chemistry to lead to some steamy scenes.
The plot moved quickly, keeping me hooked all the way through. There were a few unexpected challenges along the way, but nothing would stop Claire and Cyrus from getting what they wanted. I really liked the story and I thought the ending was perfect.
The Lady Meets Her Match
was a delightful historical romance and I really enjoyed reading it. Romance lovers, this is a book worth the read.
*I received a complimentary copy from the publisher in exchange for an honest review
______________________________________________________________
Today we're sitting down with historical romance author Gina Conkle! Gina's latest book,
The Lady Meets Her Match
, comes out this April. To celebrate we're participating in the "Ask Gina Spotlight Tour", take it away Gina!
A. What exciting projects are waiting in the wings?
B. Lord Marcus Bowles (a character in The Lady Meets her Match) and Genevieve Turner have most of my attention right now. Then, there's a band of Vikings called The Forgotten Sons who have been waiting. I have part of the first book in that series already written.
______________________________________________________________
Cyrus removed his fine blue coat, the slide of cloth on cloth an inviting sound to her benumbed senses.
"You're not warming up sufficiently." He leaned in and wrapped his coat over her shoulders, his deep voice like an intimate connection. "Someone needs to take care of you."
She shuddered when his breath tickled her ear. His warmth and nearness was just as heavenly as what he draped around her. She could tell he found her refusal more amusing than deterring. Cyrus closed the coat in front of her, his body heat palpable inside. The collar's woven broadcloth brushed her rain-misted cheeks, his pleasant scent on the cloth. The coat was part of an expensive, well-tailored ditto suit: identical blue fabric with spare gold trim on the coat, waistcoat, and breeches.
"I'll ruin part of a perfectly good suit." But she pulled the coat tighter, greedy for the snug feel.
He added more coal to the blaze. The inferno's orange light danced across white cotton stretched over his shoulders. Muscles moved under the fabric, mesmerizing her while he built a hotter fire. And then there was his offer to waive her rent and give her a loan, an offer apparently free of unique requirements. His act of generosity pinched her conscience.
How dare he be so…nice.
"About the rent, the loan, I cannot accept your kind offer." She cleared her throat, trying to sound competent. "I'll find a way."
Ryland glanced at her but said nothing to counter her refusal. Instead, he dropped to the floor, kneeling before her. Without asking her leave, he removed one shoe and then the other, and set the soaked footwear against the hearth's ash pan.
"What are you doing?" Her words, like her body, went slack, all of her too worn down.
His head bent close to her knee. One hand, large and warm, curled around her ankle, rubbing life back into her foot. A big, masculine palm moved under the arch, creating delightful friction.
She pressed her lips together, holding back a moan of pleasure.
"I would think a land steward's daughter would know wet clothes are hazardous for one's health." He flashed a devilish grin. "You ought to remove your wet clothes, cover yourself with something warm and dry."
Such as covering myself with you.
______________________________________________________________
Up for grabs are 5 copies of Meet the Earl at Midnight.
Good luck!
a Rafflecopter giveaway
About the Author:
Gina Conkle, a history nerd to the core, loves castles and museums. Her motto is "the older and moldier, the better." When not enjoying relics, she lives in the present, dabbling in organic gardening at her home in San Diego, California. She lives with Brian, her husband and favorite alpha male, and their two boys. Visit her at
www.ginaconkle.com
.