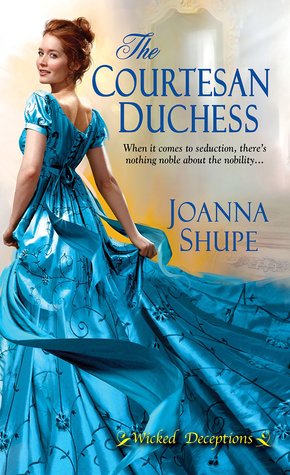 Release date: March 31, 2015
Publisher: Kensington/Zebra
Genre: Historical (Regency) Romance
Series: Wicked Deceptions #1


How to seduce an estranged husband—and banish debt!—in four wickedly improper, shockingly pleasurable steps...

1. Learn the most intimate secrets of London's leading courtesan.
2. Pretend to be a courtesan yourself, using the name Juliet Leighton.
3. Travel to Venice and locate said husband.
4. Seduce husband, conceive an heir, and voilà, your future is secure!

For Julia, the Duchess of Colton, such a ruse promises to be foolproof. After all, her husband has not bothered to lay eyes on her in eight years, since their hasty wedding day when she was only sixteen. But what begins as a tempestuous flirtation escalates into full-blown passion—and the feeling is mutual. Could the man the Courtesan Duchess married actually turn out to be the love of her life?


My Rating: 3 Roses
I was a little wary going into this because it seemed like the type of romance to feature misunderstandings and miscommunication galore. But, while some of those fears came to be true,
The Courtesan Duchess
was an overall enjoyable read. It was an interesting idea and I really liked seeing it played out.
Julia was great. She was a kind and likable character and, when it came down to it, she was willing to do whatever she needed to fix her situation. She had been left as a wife with no power and she was determined to find a way to get some of it back from her in-laws. My only issue with her was that I wanted her to make Nick grovel a bit more. But, she was too nice to let him squirm a little so I couldn't hold it against her. I thought she was lovely.
Nick, however, I had a love-hate relationship with. On one hand, he could be such an ass. First, he left his wife for 8 years and cavorted with any willing woman in Europe while she was left to fend for herself. Then, he had the audacity to get mad at her because he suspected that she had slept with another man. Really? Like you have a stone to throw, my friend. And, he didn't even fight for her as much as I hoped. Where was the big gesture to show his regret? The wooing and courting to prove to her that he wanted to make up for leaving her behind? But, sometimes, he could be really sweet. I loved how caring he was of his daughter, even though he said he didn't want children. And, I guess in his own half-hearted way, he fought for Julia (though not nearly as much as he should have). He wasn't really my favorite hero, but I was okay with him.
The romance was good. I wasn't as happy with it as I could have been because of my issues with Nick. However, I did like them together, when they interacted without all their resentment in the forefront. And, they definitely had chemistry.
The plot moved quickly and I was kept interested the entire way through. Despite any issues I had, I did ultimately enjoy the story and the ending was sweet.
The Courtesan Duchess
was a nice historical romance. It was enjoyable and sweet and I liked it. Romance lovers, you might want to check this book out.
*I received a complimentary copy from the publisher in exchange for an honest review