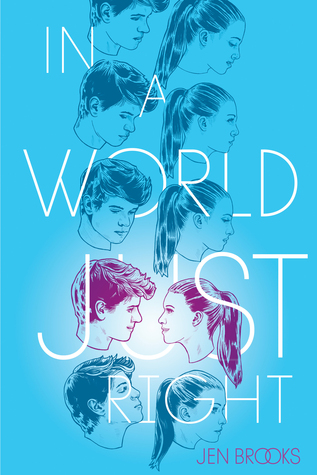 Release date: April 28, 2015
Publisher: Simon & Schuster Books for Young Readers
Genre: YA Sci-Fi/Romance

Imagination takes on new meaning for a uniquely talented teen in this debut novel that is a breathtaking blend of contemporary, fantasy, and romance.

Sometimes Jonathan Aubrey wishes he could just disappear. And as luck—or fate—would have it, he can. Ever since coming out of a coma as a kid, he has been able to create alternate worlds. Worlds where he is a superhero, or a ladies' man, or simply a better version of himself. That's the world he's been escaping to most since sophomore year, a world where he has everything he doesn't have in real life: friends, a place of honor on the track team, passing grades, and most importantly, Kylie Simms as his girlfriend.

But when Jonathan confuses his worlds senior year and tries to kiss the real Kylie Simms, everything unravels. The real Kylie actually notices Jonathan…and begins obsessing over him. The fantasy version of Kylie struggles to love Jonathan as she was created to do, and the consequences are disastrous. As his worlds collide, Jonathan must confront the truth of his power and figure out where he actually belongs—before he loses both Kylies forever.


My Rating: 4 Roses
An interesting concept that turned out to be a great story,
In a World Just Right
was a fantastic YA read. With the cool world-builder element and a romance that went across worlds, this book was definitely wonderful and I really liked it.
Johnathon was a really likable character. He had a lot of changes throughout the book with the worlds he visited and a shocker of a secret that totally changed my perception of him. Throughout all that, though, he was a kind and sweet guy who was genuinely adorable.
Kylie was kind of a multi-character, if that makes any sense. There was more than one version of her that were kind of the same but with enough differences that they weren't identical and that made her an interesting character. But, like Johnathon, her character throughout it all was nice and accepting of everyone. I thought she was a great character as well.
The romance was really sweet. It was definitely different, with the different worlds and all that. But, throughout every world, Johnathon and Kylie were a sweet couple.
The plot moved quickly, keeping me interested all the way through. The only downside of the story was that the world-building and explanations weren't all there. I got enough that I had some understanding of what was going on but not enough that I could say I really got the whole concept. I still had a few questions, mostly over some details that weren't quite explained. But, it wasn't that bad and I was still able to follow the story so it wasn't a major problem. I still really liked the story. There were several twists along the way that really took me by surprise and made the story unpredictable. And the ending was perfect.
In a World Just Right
was a fantastic YA read that I really liked. It had an interesting idea, a few unexpected surprises, and a great story. YA lovers, this is a book that you'll want to read.
*I received a complimentary copy from the publisher in exchange for an honest review