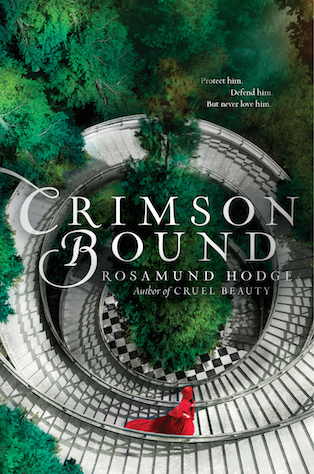 Release date: May 5, 2015
Publisher: Balzer + Bray
Genre: YA Fantasy/Retelling

When Rachelle was fifteen she was good—apprenticed to her aunt and in training to protect her village from dark magic. But she was also reckless— straying from the forest path in search of a way to free her world from the threat of eternal darkness. After an illicit meeting goes dreadfully wrong, Rachelle is forced to make a terrible choice that binds her to the very evil she had hoped to defeat.

Three years later, Rachelle has given her life to serving the realm, fighting deadly creatures in an effort to atone. When the king orders her to guard his son Armand—the man she hates most—Rachelle forces Armand to help her find the legendary sword that might save their world. As the two become unexpected allies, they uncover far-reaching conspiracies, hidden magic, and a love that may be their undoing. In a palace built on unbelievable wealth and dangerous secrets, can Rachelle discover the truth and stop the fall of endless night?

Inspired by the classic fairy tale Little Red Riding Hood, Crimson Bound is an exhilarating tale of darkness, love, and redemption.

(This is a standalone novel, not part of the Cruel Beauty Universe.)


My Rating: 5 Roses
A captivating and imaginative retelling of Little Red Riding Hood,
Crimson Bound
was definitely an excellent read. I read and loved
Cruel Beauty
and had high hopes for this book. It definitely met them, for the most part, and I absolutely loved this book.
Let's start with the world building. In
Cruel Beauty,
one of the things that struck me the most was how rich and compelling the setting was and that was definitely the case here as well. I was utterly absorbed in the world of the book and that kept me drawn in from page 1.
Rachelle was an interesting character. I definitely respected her but it took me longer to actually like her. From the beginning, it was obvious that she was strong-willed, determined, and definitely a force to be reckoned with when she set her mind to something. But, she also tried very hard to portray the worst of herself. With Armand, for example, she was almost self-righteous, as if she had the higher moral ground, even after what she had done. And, she had a cruel streak. Worst of all, she did something remarkable stupid that made me want to punch her, especially because it hurt Armand. Over the course of the book, though, I got glimpses of the honorable and kinder person she could be. When she finally set her mind to reclaiming control over who she would be, I was able to truly like her. So, in the end, I thought she was great.
Armand was just as intriguing. Despite seeing him through Rachelle's biased eyes, it was immediately clear that beneath all his secrets was a kind and noble man who did what had to be done. There was a lot to him, not the least of which was his cleverness, strength, and determination to do what was best for the people of the kingdom. I found him to be a wonderful character.
Erec was the other major player in the game and he was certainly a puzzle. He started off seeming like nothing more than a charming rogue but that impression didn't last for long. I don't want to give anything away but I will say that he was a character that managed to surprise me.
The romance was lovely. It had a strange was of being both simple and complex. Simple in that they both recognized their feelings for each other and even admitted them to each other. On their own, their feelings were a simple, undeniable fact. The situation, though, made things so much more complicated. Even while they were saying they loved each other, they had to contemplate being the ruin of each other because of what was going on around them. Put that together and you have a very well done romance.
The plot was fast paced and kept me totally hooked. However, the pace was just slightly off. Just enough that it was noticeable but not to the point that I started to get bored because of any slowness. However, the secrets and thrills still kept me on the edge of my seat. There was betrayals in store that definitely took me by surprise. I loved the story and the ending was fabulous.
Crimson Bound
was an absolutely brilliant YA read. Dark, compelling, thrilling, and romantic, this book definitely doesn't disappoint. YA lovers, this is a must read book.
*I received a complimentary copy from the publisher in exchange for an honest review