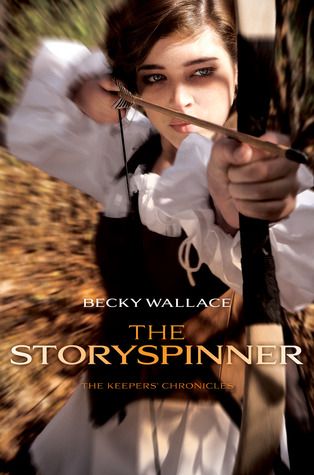 Release date: March 3, 2015
Publisher: Margaret K. McElderry
Genre: YA Fantasy Romance
Series: The Keeper's Chronicles #1

In a world where dukes plot their way to the throne, a Performer's life can get tricky.

All Johanna Von Arlo wants to do is become a Storyspinner. But her options are so limited that she is forced to work for the aggravating and handsome Lord Rafael DeSilva. While in his employ, Johanna is exposed to a dangerous game of thrones, a game where she will discover that the magically inclined Keepers from her stories might be real after all.

The Keepers are searching for an heir to a great power and the key to saving their land. They aren't alone in their hunt. Girls matching the heir's description are turning up dead all over the kingdom. Girls who look exactly like Johanna.


My Rating: 5 Roses
An absolutely amazing YA read, filled with magic, thrills, secrets, and sweet romance,
The Storyspinner
was a brilliant read. I LOVED this book! It was a beautifully written, fantastic YA tale of epic proportions and I loved every bit of it.
The way the story was told was interesting. It was different, but it really worked for the book. Two separate story lines are told concurrently, until they converge near the end of the book. On one side was Johanna and Rafael and their lives in the human world, while the magic-wielding Keepers were on the other side, trying to find the lost princess to restore balance to their worlds. Meanwhile, the point of view shifted between each of the five main characters, plus a couple of scenes from another's perspective. Normally, I would find this annoying, but it was very well done in this book. The transition between characters flowed and I never got confused about whose head I was in. All of this worked really well for the book and, along with the beautiful prose, I thought it was all very well written.
The main human characters (Johanna and Rafael) were both great. Johanna was strong, clever, and very protective of her brothers. I thought she was just lovely and I really liked her. Rafael seems cold and distant on the surface, but it doesn't take long to realize that he was a very honorable person who was extremely dedicated to his people and super sweet when he wanted to be. He was wonderful and I totally adored him.
The romance with these two was so sweet. It progressed naturally, which I appreciated. They were perfect together. Though after a certain revelation near the end of the book, I wonder if (and how) their relationship will change. We'll see...
The Keepers (there were three of them) were also great. Jacare was very honorable and determined to do what was best for everyone, in both worlds. Pira was strong and very independent, though she could sometimes cross the line into a shrew, acting rude and judgmental . Leao was very sweet. But, be careful not to underestimate him. He might seem naive and innocent, but he was also a force to be reckoned with. I thought all three of them were wonderful characters.
There was a light romance between Pira and Leao. It developed slowly, due to Pira's bull-headedness, but I'm interested to see where their relationship goes.
The plot was fast paced and I was totally hooked the entire way through. There were plenty of thrills to keep me on the edge of my seat, along with secrets and political games. And, the atmosphere of the characters' world really drew me in. I loved the story and the ending has me itching to get my hands on book 2. Can't wait to read it!
The Storyspinner
was a brilliant YA read. I absolutely LOVED this book! From the engaging characters and sweet romances, to the endless thrills, surprising secrets, and fantastic story, this book was amazing. YA lovers, this book is a must read.
*I received a complimentary copy from the publisher in exchange for an honest review