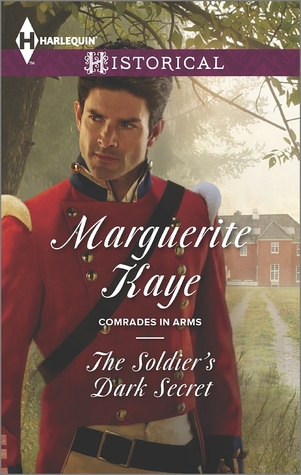 Release date: February 17, 2015
Publisher: Harlequin
Genre: Historical (Regency) Romance

The truth behind the hero

Officer Jack Trestain may have been one of Wellington's most valued code-breakers, but since Waterloo, he's hung up his uniform. If only he could just as easily put aside the tortured memories he carries deep within… Perhaps enchanting French artist Celeste Marmion might be the distraction he so desperately craves?

Except Celeste harbors secrets of her own, and questions that she needs Jack's help to solve! With Celeste's every touch an exquisite temptation, how close can Jack get without revealing his darkest secret of all?

Comrades in Arms

War heroes, heartbreakers…husbands?


My Rating: 3 Roses
With secrets and sweet romance,
The Soldier's Dark Secret
was a lovely historical romance. I enjoyed this book and I thought it was a great read.
Celeste was a good heroine. She had made something of herself and found a way to be independent, even after basically her entire family rejected her. For the most part, I found her to be a lovely heroine.
Jack was good as well. He was a genuinely good man who felt the weight of his mistakes heavily. But, though he might not have seen himself that way, he was honorable, sweet, and likable as a person. I thought he was great.
The romance was okay. I did think Celeste and Jack were a sweet couple who understood each other on a deeper level and they definitely had chemistry. But, I wish the had been more active in their relationship, if that makes any sense. They were very passive about what their future would be until the very end. But, I still thought they were good together.
The plot never dragged and kept me interested, though not particularly hooked, all the way through. I liked the story and I thought the ending was sweet.
The Soldier's Dark Secret
was an enjoyable historical romance and I liked it overall. Romance lovers, you might want to check this book out.
*I received a complimentary copy from the publisher in exchange for an honest review