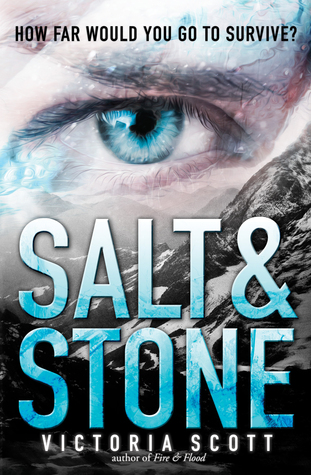 Release date: February 24, 2015
Publisher: Scholastic Press
Genre: YA Adventure/Romance
Series: Fire & Flood #2


What would you do to save someone you love?

In Fire & Flood, Tella Holloway faced a dangerous trek through the jungle and across the desert, all to remain a Contender in the Brimstone Bleed for a chance at obtaining the Cure for her brother. She can't quit--she has to win the race, save Cody, and then fight to make sure the race stops before it can claim any more lives. In the next legs of the race, across the ocean and over mountains, Tella will face frostbite, sharks, avalanche, and twisted new rules in the race.

But what if the danger is deeper than that? How do you know who to trust when everyone's keeping secrets? What do you do when the person you'd relied on most suddenly isn't there for support? How do you weigh one life against another?

The race is coming to an end, and Tella is running out of time, resources, and strength. At the start of the race there were one hundred twenty-two Contenders. As Tella and her remaining friends start the final part of the race, just forty-one are left--and only one can win.


My Rating: 4.5 Roses
An excellent sequel to the fantastic
Fire & Flood, Salt & Stone
was a top-notch YA read. With high-stake thrills and unexpected turns, this book was amazing and I loved it.
Tella definitely went through some changes in this book, some better than others. Her development was actually my one issue with the book. In the beginning, she realized that she relied a lot of Guy and wanted to become more independent. Nothing wrong with that, though I didn't see following the advice of someone who knew what they were talking about as weak. The trouble was that her idea of independence was going against whatever Guy said just to be contrary, even though his advice was worth a lot. Also, she didn't like being ordered around but in her quest to be stronger, she just turned around and started ordering everyone else around. And, all of this became most of her character in the book, in between caring for her Pardoras and swooning over Guy. Now, this didn't totally take down her character. She was still tougher than she believed she was and, eventually, her gut led her to the right calls. My issue was that it took a long time for her to find a balance between going with everything that Guy said and being an equal part of a duo. So, while I still liked her, I did grow frustrated with her on a few occasions. But, in the end, she did become a stronger character.
Guy was as wonderful as he was in book 1. He was understandably confused as to why Tella suddenly went against everything he said but his one goal remained to get to the end of the race, keeping as many people safe as he could, and take down the race from the inside. And, in the end, after Tella found her balance, he was able to change his single-minded goal to include the friends who wanted to help and respect the team as a whole. I thought he was an absolutely adorable badass.
The romance was still light in this book and it definitely evolved. Tella and Guy were able to find themselves on equal footing and, near the end, we started to see how they would work as a cohesive team. From the hints we get of that, it was clear that they would be a formidable force together. I just hope things keep looking up for them in the next book.
Can I just say how much I love the Pandoras? They're totally badass animals capable of utter destruction, yet they're so gentle and adorable with their Contenders. I just adored them.
The plot was fantastic. It was a nonstop roller-coaster of thrills, twists, and constant danger. And the end definitely left things on an ominous note that has me anxious to find out what happens next. Can't wait for more!
Salt & Stone
was a fantastic YA read that I totally loved. It was a sequel that doesn't disappoint, complete with thrills, action, danger, and a bit of romance. YA lovers, this is a must read book.
*I received a complimentary copy from the publisher in exchange for an honest review