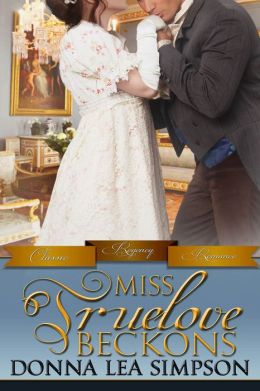 Release date: February 9, 2015
Genre: Historical (Regency) Romance

From the author of The Rogue's Folly comes a Regency romance celebrating the witty and romantic world that fans of Georgette Heyer have fallen in love with.

When Truelove Becket's betrothed went missing in a naval battle, she vowed never to marry unless she found someone she loved as much. In the seven years since then, the quiet vicar's daughter has lived a simple and contented life helping the poor people of her village. But now another man has asked for her hand in marriage and, unsure if she is ready to commit to him, she agrees to accompany her beautiful cousin Arabella on a trip to visit friends so she can take time to think it over.

Viscount Drake cut a dashing figure when he returned from war to a hero's welcome, but the Battle of Waterloo left him a shattered and haunted man. As his dreams are invaded by the terrors of war he becomes a sleepless shell of a man, and as his torment grows he begins to wonder if marriage to the lovely Arabella will help restore him again. But as Arabella coquettishly flirts to secure Drake's hand and his riches, it is the pretty and practical True he turns to for solace.

With the weight of her marriage proposal bearing down on her, True finds herself irresistibly attracted to Drake's quiet dignity and genuine distress, just as he finds himself drawn to her honest nature and soothing compassion. When a spark of passion ignites between these two who have both lost so much to war, they will have to confront their biggest fears—and everyone else's plans for their futures—to discover if love can truly cure all ills.


My Rating: 5 Roses
A truly sweet and charming romance,
Miss Truelove Beckons
was a delightful historical romance. I really liked this book. It was a wonderfully romantic and enjoyable read.
True was a really lovely heroine. Kind, selfless, and entirely at peace with herself, she was a character with a calming influence. But, that didn't mean she was a pushover. She had a quiet dignity that ensure that nobody could bring her down. I really liked her.
Drake was wonderful as well. He had come back from the war disillusioned and unwilling to deal with flighty misses. But, beneath that cynicism, he was a sweet and kind man of action. I really liked him as well.
The romance was perfect. True and Drake were perfect together. True and her steadiness were exactly what Drake needed while Drake's willingness to give himself over to love was what True needed. I thought they were lovely together.
The plot was fast paced and I was hooked right from the start. The story was just lovely and the ending was perfect.
Miss Truelove Beckons
was an absolutely delightful read that I really enjoyed. It was sweet, emotional, and enjoyable. Romance lovers, this is a book you won't want to miss.
*I received a complimentary copy from the publisher in exchange for an honest review