Click on the banner for the full schedule.
Welcome to my post for the I Remember You book tour! I have a review coming up, as well as a giveaway for copies of I Remember You. But, first, allow me to introduce the book: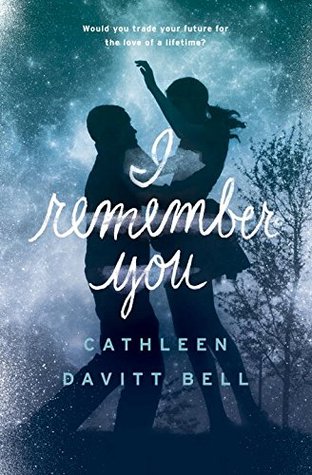 Release date: February 10, 2015
Publisher:

Knopf Books for Young Readers


Genre: YA Contemporary Romance

For fans of THE FUTURE OF US comes an engrossing story of two teens, whose love for each other is tested by time and fate.

Lucas and Juliet couldn't be more different from each other. But from the moment Lucas sees Juliet, he swears he remembers their first kiss. Their first dance. Their first fight. He even knows what's going to happen between them—not because he can predict the future, but because he claims to have already lived it.

Juliet doesn't know whether to be afraid for herself or for Lucas. As Lucas's memories occur more frequently, they also grow more ominous. All Juliet wants is to keep Lucas safe with her. But how do you hold on to someone you love in the present when they've begun slipping away from you in the future?


My Rating: 4 Roses
A sweet YA romance that was different enough to be truly memorable,
I Remember You
was a fantastic read. I really liked this book. It had sweet romance, as well as a few surprises in store, and I thought it was excellent.
Juliet was a great heroine. She started out narrow in her way of thinking but she slowly became more accepting and, consequently, more mature and ultimately more likable. I really liked her character.
Lucas was interesting. The whole question of why he had certain memories that hadn't happened yet was an engaging mystery. The reason why definitely took me by surprise. But, past that, he was also super sweet and totally adorable. I really liked him as well.
The romance was great. The future memory thing added a deeper element to it, with Lucas already knowing how much he would love Juliet when they met. It made the nature if their relationship intense. The romance took a few unexpected turns along the way. Did it end well? You'll have to read to find out :)
My only issue with the book was that Rosemary, Julie's friend, annoyed me. She was somewhat cold and cynical in her way of thinking and I didn't like the cruel way she led Dex (a sweet guy who liked her) along. It also made me annoyed with Juliet for not calling her friend out on her behavior. So, that brought down the book a bit.
The plot moved quickly, keeping me hooked from page 1. The characters were engaging, the story was unique, and the ending tied up the story while leaving a little room for interpretation.
I Remember You
was a fantastic YA read that I absolutely loved. It was different, surprising, and an ultimately enjoyable book. YA lovers, this is a book worth the read.
*I received a complimentary copy from the publisher in exchange for an honest review
_________________________________________________________________
Up for grabs are 10 copies of I Remember You. US only.
Good luck!
a Rafflecopter giveaway
About the Author:
I was born in Princeton, NJ in 1971 and lived there until I was twelve, when we moved with my mom moved to West Hartford, CT.
My dad and mom had been divorced when I was two, and my dad lived in Williamstown, MA. I spent summers and school vacations with him.
I went to college in New York, at Barnard, and stayed in New York after I graduated. I worked as a newspaper reporter for three months, as a salesperson for a multimedia publisher for three years, and as a market researcher, and finally a copywriter.
I'm married and have two awesome kids ages two and five. I lived in Manhattan for sixteen years, but now am in Brooklyn, living downstairs from my sister and her family. I have two dogs named Oscar and Oprah. My favorite food is pizza and, strangely, in my thirties, I've developed a great love for playing catch. Slipping is my first book.