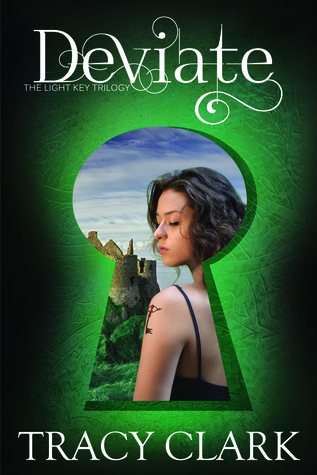 Release date: March 3, 2015
Publisher: Entangled Teen
Genre: YA Paranormal Romance
Series: The Light Key Trilogy #2


Tormented after a daring escape, Cora Sandoval must find a way to stop the Arrazi from murdering innocent people and from violating, using, and killing the Scintilla for their powers. She must also accept one bitter betrayal: Finn Doyle—the Irish boy who has both a piece of Cora's heart and soul—is Arrazi...

On the verge of extinction and sought by those who would either consume or destroy them, Cora and the remaining Scintilla survivors must solve the mystery of The Light Key. If they fail, the truth will stay buried forever and mankind will pay the ultimate price.

No longer will she hide.

No longer will her loved ones be hunted.

And she will have her vengeance...even if she shatters her heart in the process.


My Rating: 3 Roses
A good sequel, though not quite as good as the first,
Deviate
was an enjoyable YA read. I had high hopes for it, considering I liked the first book so much, and, while it didn't meet them all, I did like this book.
Let me start with what I liked:
The characters definitely grew. Their situations forced them to mature real fast and they did. Cora was fueled by her determination to protect her family and Finn was equally determined to do what he could to protect Cora. For the most part, I liked them both.
The stakes were upped in this book, with more secrets being revealed and changing the game.
Overall, I liked the story line. It did a great job setting up for the next book, putting all the players in place.
However, there were definitely some problems.
First, the pace was really slow. Most of the book was spent with the characters researching rather than doing something. It wasn't until the last quarter of the book that things picked up and the characters started to get into gear.
The romance was iffy for me. I didn't mind that Cora and Finn were apart. Even apart, their feeling for each other were still alive. What I minded was the flimsy love triangle that was forced on the characters. For those who read book 1, you can probably guess who it was with. I just found it to be annoying. I was in no way convinced of their relationship and it left me feeling vaguely uncomfortable.
Finally, I found myself feeling annoyed with Cora for having no sense of empathy for the Arrazi. I know they were responsible for her father's death, and several other deaths for that matter, but I was surprised that it never occurred to her that many of them were not happy with what they had to do to survive. Did she expect them to starve themselves and become martyrs? Ignore their survival instinct, even though completing a kill was 100% necessary for them to live? And it was especially annoying because she knew Finn and knew that he didn't chose to be what he was, yet I still got the feeling that she almost blamed him for it and had so little regard for him that she saw the only two paths for him as either starving himself or becoming a kill-happy monster. It was particularly ironic that she and Giovanni went on about killing all the Arrazi as if that didn't leave them as murderers as well, then continued to judge a species that couldn't help what it was. I don't know, maybe it was just me, but I was just irritated with her.
Despite all this, I still liked the book overall. It wasn't as good as I hoped it would be, but I still enjoyed it. So, it was worth the read.
*I received a complimentary copy from the publisher in exchange for an honest review