Welcome to my post for the Better When He's Bold book tour! I have a review coming up, as well as a giveaway for a copy of Better When He's Bad. But, first, allow me to introduce the book: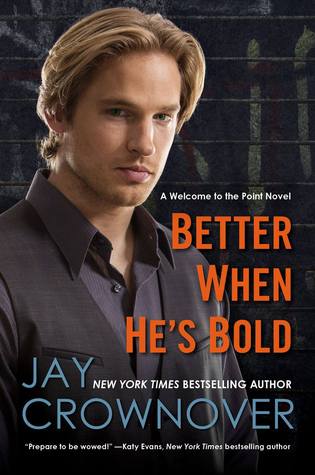 Release date: February 3, 2015
Publisher: William Morrow
Genre: New Adult Contemporary Romance
Series: Welcome to the Point #2


Some men are just better when they're bold.

Welcome to the Point...
In a dark and broken kingdom, a ruler has to be fearless to control the streets and the ruthless people who run them.

Race Hartman is just bold enough, just smart enough, and just lost enough to wear the crown. Places like the Point will always have bad things and bad people, but the man in control of all that badness can minimize the devastation. Race has a plan, but can he prevent total annihilation without destroying himself?

Brysen Carter has always seen her best friend's brother for what he is--too pretty, too smooth, and way too dangerous to touch. Basking in Race's golden glow is very tempting, but Brysen knows she'd eventually get burned.

When she starts receiving threatening texts and someone tries to take her out in parking lot, the only person interested in keeping her safe is the one man she can't allow herself to have.

Sometimes being bold is the only way to stay alive. But can she let Race save her life . . . if it means losing herself to him?

And don't miss the previous books in The Point Series!
My Rating:
4 Roses
As dark, gritty, sexy, and romantic as book 1, Better When He's Bold was a fantastic read that I really liked. With engaging characters and a few twists along the way, this book was wonderful and I enjoyed reading it.

Brysen was a surprisingly tough character. She came off as cold on the surface but, beneath that, she was tough enough to do what needed to be done. There were some instances where that came off as reckless (like when she thought it was a good idea to go to the Point at night with no protection or knowledge of self defense). But, for the most part, she was great.

Race was part badass, part gentleman, and all swoon-worthy. He was very clever, ruthless when he needed to be, but also really sweet when it came to his loved ones (which were basically his sister and Brysen). I thought he was adorable.

The romance was sweet and spicy. Brysen and Race were definitely attracted to each other right from the start and that led to some serious steaminess. I did also think they were a good couple, though I wish we had seen more of an emotional connection between them. It was there but it wasn't the intense relationship I've come to expect from Jay Crownover. But, I still thought they were great together.

The plot moved quickly and kept me hooked right from the start. There were a few twists along the way, with Brysen's stalker and the power struggles Race was dealing with in the Point. I really liked the story and the ending tied up this couple's story while leaving me curious about the unknown man trying to take the Point for himself. I'm anxious to see what happens in Titus' story coming up next!

Better When He's Bold was an excellent continuation of the series. Dark, romantic, with a few surprises in store, this book was fantastic. Romance lovers, this is a book worth the read.
*I received a complimentary copy from the publisher in exchange for an honest review
_________________________________________________________________
Up for grabs is a copy of Better When He's Bad.
Good luck!
a Rafflecopter giveaway
About the Author:
Jay Crownover is the New York Times and USA Today bestselling author of the Marked Men and The Point series. Like her characters, she is a big fan of tattoos. She loves music and wishes she could be a rock star, but since she has no aptitude for singing or instrument playing, she'll settle for writing stories with interesting characters that make the reader feel something. She lives in Colorado with her three dogs.