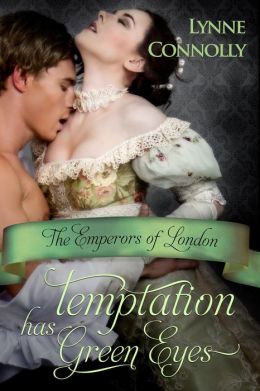 Release date: February 3, 2015
Publisher: Lyrical Press
Genre: Historical (Georgian) Romance
Series: The Emperors of London #2


She holds the key to more than a fortune…

There's more to love than meets the eye…

The daughter of a wealthy merchant, Sophia Russell has no interest in marriage, especially after a recent humiliation—and especially not to Maximilian, Marquess of Devereaux. But it's the only way to save herself from fortune hunters—and those who wish to seize a powerful connection she prefers to keep secret—even from her future husband…

Marrying Sophia is the only way Max can regain the wealth his father squandered on an extravagant country palace. And while Max and his bride are civil, theirs is clearly a marriage of convenience—until a family enemy takes a questionable interest in Sophia—one that may lead all the way to the throne. Forced to become allies in a battle they hadn't foreseen, the newlyweds soon grow closer—and discover a love, and a passion, they never expected…


My Rating: 3 Roses
I really enjoyed
Temptation Has Green Eyes
. It was a nice read, though not perfect, with a strong heroine, intriguing secrets, and good romance. I thought it was a sweet read.
Let me start with what I liked:
Sophia was awesome. This lady was smart, strong, and certainly tougher than people assumed her to be. She was the best part of the book for sure and I thought she was just wonderful.
Max, when he wasn't letting his cynicism overtake him, could be very sweet. He was clever enough to match up with Sophia and caring of his loved ones.
Now, to what I didn't like, which was a few minor issues that became enough to bring the book down.
First, sometimes, Max could be so frustrating. He let himself cling to suspicions and act like an idiot, while Sophia was trying to navigate her new life on her own. It wasn't until the very end that he managed to scrape together enough trust to change that. So, that was annoying.
Second, the romance was honestly not what I hoped it would be. It didn't get much of an actual relationship with them. It was mostly them going between acting distantly to not being able to keep their hands off of each other. There was no in between until near the end. Now, I still thought they were well matched and, when someone (Max) wasn't specifically trying to distance them, they were sweet together. And, they definitely had chemistry. However, it just wan't as deep of a relationship as I hoped it would be.
Last, the whole secret thing. On one hand, I really liked how Sophia handled it and the secret itself was intriguing. However, it was somewhat of a letdown that the entire book was spent building up to the moment of revelation and that moment was almost anticlimactic. What saved it for me, though, was how much of a badass Sophia was when she refused to fall in to another person's game.
These issues brought the book down, but I was still able to enjoy it overall. It wasn't a perfect read, but it was a perfectly nice one.
Temptation Has Green Eyes
was a good historical romance. Despite any issues I had, I still enjoyed the story. Romance lovers, you might want to look this book up.
*I received a complimentary copy from the publisher in exchange for an honest review