Click on the banner for the tour schedule.
Welcome to my post for the Claiming Serenity book tour! I have a review coming up, as well as an excerpt and a giveaway for a $20 gift card and copies of the books in the series. But, first, allow me to introduce the book: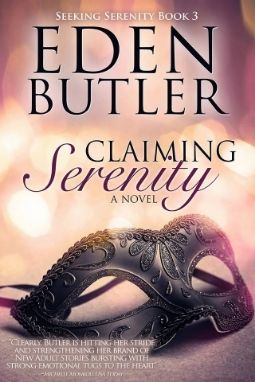 Release date: December 22, 2014
Genre: New Adult Contemporary Romance
Series: Seeking Serenity #3

She left glitter in his AC vents. He put green dye in her conditioner.

She buttered his bathroom floor, and he kidnapped her precious puppy.

Layla Mullens hates Donovan Donley. His crude language, his wide shoulders, his crystal blue eyes…she hates that she can't stop herself…from kissing him or landing in his bed.

And Donovan Donley wants nothing more than to knock Layla off her princess pedestal. He hates her stuck up attitude and her soft, tempting lips. He especially hates that her father is his coach.

But he's fine with their arrangement—act horrible to each other during the day, attack eachother naked at night. It works.

But one night changes everything. When Layla doesn't show, and Donovan's cold bed stays empty, the lies he tells himself to keep Layla out of his mind aren't enough to keep him from missing her. And needing her. Something he promised himself would never happen.

The white flags in their prank war have been lowered but their high stakes battle has just begun.





My Rating: 4 Roses
An overall good New Adult romance that I enjoyed, Claiming Serenity was a nice read. It was definitely steamy, but also sweet and a lovely romance.

The characters were both okay. Layla got on my nerves a little, with her often mean-spirited behavior and constant repetitions of how much she hated Donovan. But, overall, she was a good character. Donovan, I was more fond of. He might have teased Layla, but he would never let anything hurt her and he could be sweet when he wasn't actively trying to annoy Layla. I thought they were both likable.

The romance was definitely hot off the charts, with sparks flying between Layla and Donovan constantly. They were certainly a couple to turn the heat up.

Overall, I enjoyed the story and I thought the ending was fitting. Claiming Serenity was an enjoyable read and I liked it. Romance lovers, you might want to check this book out.
*I received a complimentary copy from the publisher in exchange for an honest review
_________________________________________________________________
"I don't do promises." His voice was even, composed and Layla didn't think that declaration was said to be cruel. It was point of fact, something Donovan clearly thought Layla needed to know.
"I don't want any."
"I don't do emotion." The slow way he twisted her long hair around his finger didn't make her think that emotion was absent in mind. She didn't care if it was.
"Not asking for that."
And then Donovan's gaze left her hair, moved over her face until they stopped at her eyes. "I like the way you feel. I like how hot and tight and sweet your body is." He moved closer, barely touching his hips to hers. "This needs to be between us. The others, they like to complicate sex. They like for it to mean something or everything. I don't. You don't, Layla. Not with me."
"Not remotely."
"If I didn't like you at least a little bit, then I wouldn't want to fuck you."
She wanted that little issue cleared up. Layla knew what Donovan's touch, his lips did to her, but outside of those moments when the air warmed around them, when they were pulled together by those licks of heat, she didn't like him. Had no desire to be around him.
"I don't like you, Donovan. I don't think I ever will." She didn't think too much about the frown that pulled at his lips or how his eyebrows pushed together as though he doubted her.
This was Donovan Donley, her nemesis, her enemy, and she was agreeing to terms and conditions related to them sleeping together. Insane, sure, but Layla knew it would be hot. She knew it would feel wonderful. It was that idea that kept her from insulting him completely. "But when you're inside me, I don't have to think. I don't have to do anything but touch and taste. That's enough for me."
They were silent and Layla let Donovan touch her, take her hair in his fist and lean her against the wall. There was a moment when their gazes caught and held, expressions shifting, lips hesitating, holding back as though both Donovan and Layla each pushed away any thought from their minds.
Donovan's chin dipped to bring his gaze to her, guiding her head with his fingers twined in her hair. Layla found it aggressive and insistent and God how she liked Donovan that way.
"Tomorrow night…just walk in."
"Tomorrow?"
Layla barely caught his nod, the slow lift of his mouth as he pulled his lips into a smile.

"There will be a tomorrow, Layla and a next day. I'm tired of thinking there won't be."
He moved closer, held her face up so she couldn't avoid his eyes. "Aren't you?" A quick nod that
Layla thought she couldn't control and Donovan's smile left his face. "Good. Tomorrow night,
don't park out front. I have a space in the back."

"Ok…okay."
"Don't knock. You don't ever have to knock when you come to me. Just fucking come."
_________________________________________________________________
Up for grabs is a $20 gift card and signed copies of the full series.
Good luck!
a Rafflecopter giveaway
About the Author:
Eden Butler is an editor and writer of New Adult Romance and SciFi and Fantasy novels and the nine-times great-granddaughter of an honest-to-God English pirate. This could explain her affinity for rule breaking and rum. Her debut novel, a New Adult, Contemporary (no cliffie) Romance, "Chasing Serenity" launched in October 2013 and quickly became an Amazon bestseller.
When she's not writing or wondering about her possibly Jack Sparrowesque ancestor, Eden edits, reads and spends way too much time watching rugby, Doctor Who and New Orleans Saints football. She is currently living under teenage rule alongside her husband in southeast Louisiana.
Please send help.