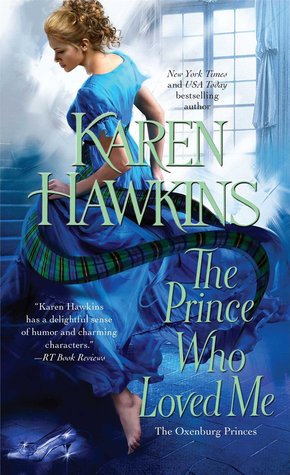 Release date: September 23, 2014
Publisher: Pocket Books
Genre: Historical Romance/Fairy Tale Retelling
Series: The Oxenburg Princes #1


Romance sizzles in this Cinderella story set in Scotland, the first in a sparkling new spinoff series fromNew York Times bestselling author Karen Hawkins.

Prince Alexsey Romanovin enjoys his carefree life, flirting—and more—with every lovely lady who crosses his path. But when the interfering Duchess Natasha decides it's time for her grandson to wed, Alexsey finds himself in Scotland, determined to foil her plans. Brainy, bookish, and bespectacled, Bronwyn Murdoch seems the perfect answer—she isn't at all to the Duchess's taste.

Living at the beck and call of her ambitious stepmother and social butterfly stepsisters, Bronwyn has little time for a handsome flirt—no matter how intoxicating his kisses are. After all, no spoiled, arrogant prince would be seriously interested in a firm-minded female like herself. So…wouldn't it be fun to turn his "game" upside down and prove that an ordinary woman can bring a prince to his knees…


My Rating: 2.5 Roses
To be honest, I'm a bit conflicted about this one. While there was a lot about this book that I really liked, there were a few things that brought it down for me. But, overall, I thought
The Prince Who Loved Me
was a nice read. Sweet, with an interesting twist on Cinderella, it was a good romance.
Bronwyn was a good character. Independent and clever, she was definitely likable. She always thought of her sisters first, even if that meant she had to deny herself something she wanted, and was an unselfish, kind character in general. I thought she was great.
Alexsey was also good. He could be sweet when he wanted to be and definitely went after what he wanted. I had a couple of issues with him, though, mainly that he was remarkably oblivious to his own feelings. He spent most of the book thinking his relationship with Bronwyn was a pleasant interlude that would end when he left. It wasn't until the very end that he finally saw the light and realized that he loved Bronwyn. A little late, but at least it came in time for him to salvage the relationship. So, while this made him not the best of heroes, he was still likable.
The romance was sweet, though a bit frustrating because of the aforementioned obliviousness. I did think that Bronwyn and Alexsey were good together and that they were well matched. And, they certainly had chemistry from the moment they met. I thought they were a lovely couple.
I really liked the twist on Cinderella in this book. It had the stepmother and stepsisters but they actually loved Bronwyn and wanted the best for her.Whenever Bronwyn's stepmother seemed like she was doing something mean, it turned out that she was actually scheming to ensure Bronwyn's happiness. I really liked that twist. I thought it made the book very sweet.
The pacing was the problem for me. For the first half, I was only vaguely interesting. To be honest, I didn't feel like the story really kicked off until halfway through. That made for slow reading at first and I even started skimming before that plot picked up. So, that really brought the book down. But, the action in the second half saved it. For the rest of the book, I was kept interested and it was enough that I ended up still liking the book. It was a sweet story with a perfect ending.
The Prince Who Loved Me
was a good historical romance. Though not perfect, I still enjoyed it overall. It might not have worked out all the way for me, but if might for you, so this is definitely a book worth checking out.
*I received a complimentary copy from the publisher in exchange for an honest review