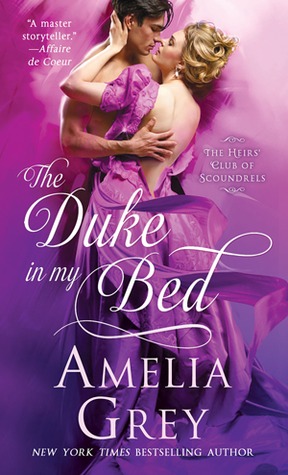 Release date: December 30, 2014
Publisher: St. Martin's Paperbacks
Genre: Historical (Regency) Romance
Series: The Heirs' Club of Scoundrels Trilogy #1


From bestselling author Amelia Grey comes a wickedly romantic tale of one reckless bachelor, five unwed sisters, and a wildly unconventional game of love…

HERE COMES THE GROOM

As a notorious member of the Heirs' Club, Bray Drakestone can't resist a challenge from one of his well-heeled colleagues—especially when it involves money and horses. But the friendly wager takes an unexpected and deadly turn. Bray is forced to agree to marry one of his challenger's five sisters—sight unseen. Now gamblers all over London are placing bets on whether Bray will actually go through with it…

THERE GOES THE BRIDE

Miss Louisa Prim, the eldest sister, doesn't care a whit what the reckless rogue at the Heirs' Club promised her brother—she has no intention of marrying the future Duke of Drakestone. Bray, however, sees her rejection as another challenge. He bets that the fiery Miss Prim will not only agree to marry him, she will propose to him! With four sisters behind her, Louisa knows she can't lose. But why does her opponent have to be a divinely handsome scoundrel? And so sweetly, irresistibly seductive…


My Rating: 4 Roses
A love romance with a reluctant hero and a lively heroine,
The Duke in My Bed
was a wonderful historical romance. I really enjoyed this book. It was sweet, romantic, and I really liked it.
Louisa was, for the most part, a really good heroine. She was very protective over her sisters and determined to continue caring for them. She was a mostly great character. However, I did get frustrated with her for a couple of things. First, she was very determined to think the worst of Bray and that became very annoying, very quickly. I could understand her wariness at first but when she got to know him better and see what kind of a person he really was, she still insisted on assuming the worst of him in everything. That leads up to the other issue with her. Because she didn't like Bray, she wanted to have him removed as their guardian and she actually thought it would happen. Seriously? He got them everything they needed, treated all the girls well, and took care of his responsibility to them. There was no court that would consider changing the guardianship. And who would it be given to? Well, she was hoping that judge would actually bother to appoint someone for them. Because, of course, having a strange man be their guardian was better than having a duke who she knew would do right by them, even though she didn't want to admit it. She did realize her mistake in the end, which is why I was able to still like her. But, I did get annoyed with her on more than one occasion.
Bray was a character who changed a lot over the course of the book. He started off as a somewhat selfish rake who did his best to avoid real responsibility. But, as the book went on and he got to know Louisa and her sisters, he did a lot of changing. He showed himself to be a kinder and more patient man than even he knew. I absolutely loved how he was with Louisa's sisters, whom he treated very kindly. I thought he was wonderful.
The romance was good. It was held up a bit because of Louisa, but even her protestations didn't hide the fact that they had feelings for each other from the moment they met. Their romance was sweet with a little spice and I thought it was lovely.
The plot was well paced and kept me interested. Other than my issue with Louisa, I did really enjoy the story and I thought the ending was perfect.
The Duke in My Bed
was a delightful historical romance that I really enjoyed. Romance lovers, this is a book worth checking out.
*I received a complimentary copy from the publisher in exchange for an honest review