Click on the banner for the full schedule.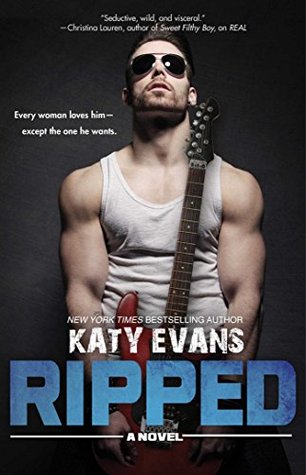 Release date: December 9, 2014
Publisher: Gallery Books
Genre: New Adult Contemporary Romance
Series: Real #5

Every woman wants me--except the one I sing for.

Seattle shakes with anticipation: they call it the concert of the year. They say girls are getting pregnant just thinking about my band being in town.

But when you love a girl, you don't leave her with nothing but a ring and a promise. Any man with half a brain should know.

So what did I expect my girl would do when she saw me again?

Well, for starters, she loathes our music. Particularly the song I wrote about her.

When I sing it, the stadium is in an uproar. Thousands of fans scream my name like I'm a god--but yeah, not her. Crystal clear: the girl's not happy to see me.

Black hair, black boots, a bad attitude, that's her -- Pandora Stone is a freaking man-eater and she's out for my blood.

That's alright.

Let her come at me. Because I'm out for her heart and, this time, there's no way she can stop me.

A New Adult romance that was both sweet and super hot, Ripped was a great read. I really liked it. A romance about a second chance that had chemistry and secrets to spare, it was a wonderful read that I enjoyed.
Pandora was a good heroine, though I had a little trouble with her. At first, she came off as really bitter and hateful and it just wore on my nerves after a while. But, as the book went on and she let her walls drop, I got to know her kinder side and that made me like her much better. I was still annoyed, though, that she found out what had really happened to make Kenna leave, she was able to forgive the person responsible much faster than she was ever able to forgive Kenna. Altogether, though, I liked her fine.
Kenna was a charmer for sure. But, he was also genuinely sweet and could be absolutely adorable. He had his reasons for leaving Pandora, so I couldn't be annoyed with him over that, especially because the root of it all was his inability to believe he was good enough for Pandora (not helped by her emotional reticence). I thought he was a wonderful character.
The romance definitely turned the heat up. The chemistry between Pandora and Kenna was off the charts and it led to plenty of steamy moments. But, I also thought they were a great couple. They had loved each other years ago but circumstances tore them apart. Beneath all the heartache and bitterness that set in, those feelings were still there.
The plot was fast-paced and kept me interested all the way through. The truth about Kenna leaving managed to take me by surprise, which was a plus. I really liked the story and the ending was great.
Ripped was a sweet, steamy, and fantastic romance that I really enjoyed. Romance lovers, this is a book worth checking out.
*I received a complimentary copy in exchange for an honest review
_________________________________________________________________
About the Author
Katy Evans grew up with books and book-boyfriends until she found a real sexy boyfriend to love. They married and are now hard at work on their own happily ever after. Katy loves her family and friends, and she also loves reading, walking, baking, and being consumed by her characters until she reaches "The End." Which is, hopefully, only the beginning…