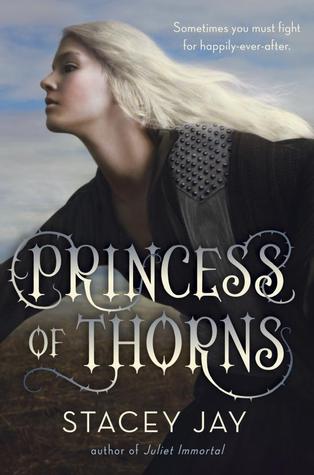 Release date: December 9, 2014
Publisher: Delacorte Press
Genre: YA Fantasy/Retelling

Game of Thrones meets the Grimm's fairy tales in this twisted, fast-paced romantic fantasy-adventure about Sleeping Beauty's daughter, a warrior princess who must fight to reclaim her throne.

Though she looks like a mere mortal, Princess Aurora is a fairy blessed with enhanced strength, bravery, and mercy yet cursed to destroy the free will of any male who kisses her. Disguised as a boy, she enlists the help of the handsome but also cursed Prince Niklaas to fight legions of evil and free her brother from the ogre queen who stole Aurora's throne ten years ago.

Will Aurora triumph over evil and reach her brother before it's too late? Can Aurora and Niklaas break the curses that will otherwise forever keep them from finding their one true love?


My Rating: 5 Roses
A stunningly beautiful, endlessly thrilling, and wonderfully romantic YA fantasy,
Princess of Thorns
was a brilliant book that I absolutely loved. With its interesting take on what happened to Sleeping Beauty and her children and its vivid world-building, this book was amazing.
The setting of this book was beautifully set up. I wasn't swamped with details, but there was enough for me to feel totally absorbed into the fantasy world, complete with an air of magic. It really made the book that much more engaging and I thought it was well done.
Aurora was a wonderful heroine. She was very strong, able to take care of herself and definitely a force to be reckoned with. She could be stubborn and prideful with her reluctance to accept help, but she got better over the course of the book. I really liked how fiercely loyal she was to those she cared about and that, in the end, she knew her priority had to be the safety of all the people of the world. She was a fantastic character and I really liked her.
Niklaas was amazing as well. He was slightly arrogant, very charming, and absolutely adorable. He was determined to find a way to break his curse but helping his friends came first. I liked how, after finding out how strong Aurora was, he knew he had to rethink his view of the world and he did. He was just wonderful and I adored him.
The romance was great. Because Aurora was disguised as a boy at first, it started off as a friendship and I really liked that. Aurora and Niklaas really got to know and respect each other as who they were before any deeper feelings complicated anything. And, when Niklaas found out that Aurora was a girl, there was a noticeable transition from friends to something more, rather than just switching right over, and I liked how that was done. They were great together. They were strong on their own, but even stronger together and I just loved them as a couple.
The plot was totally gripping and I was hooked the entire way through. There were plenty of thrills and twists that kept me on the edge of my seat. I absolutely loved the story and the ending was perfect.
Princess of Thorns
was a brilliant YA fantasy that I absolutely loved. Everything about it was simply stunning. YA lovers, this book is a must read.
*I received a complimentary copy from the publisher in exchange for an honest review