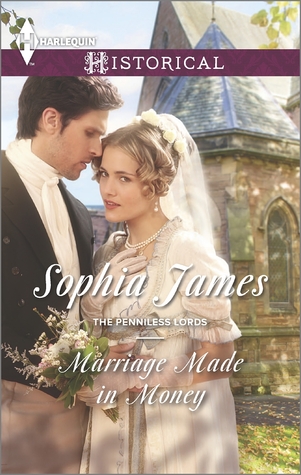 Release date: December 16, 2014
Publisher: Harlequin Books
Genre: Historical (Regency) Romance


To have and to hold…

After her first disastrous marriage, wealthy heiress Amethyst Cameron swore she'd never take a husband again. Yet her beloved father's deepest wish is for her to wed an aristocrat to protect her life and reputation.

Until the debts are paid!

Lord Montcliffe must marry into money to save his debt-ridden estate, but he doesn't have to like it—or his bewitching future bride. So he's stunned by the feelings stirred up by one scorching kiss! But when Daniel uncovers the truth, can he accept the real Amethyst and help to banish the ghost of her past forever?

The Penniless Lords

In want of a wealthy wife


My Rating: 3 Roses
Marriage Made in Money
was an enjoyable historical romance. It was a sweet read and I quite liked it.
Amethyst was a lovely heroine. Strong enough to survive everything life through at her and thrive anyway. Daniel was was sweet and valued the happiness of his loved ones more than anything. I thought both were great characters.
The romance was good. Amethyst and Daniel were sweet together. And, for those who want to know, this was a fairly clean romance.
The plot was okay. For some reason, I never felt fully engaged with the story. I don't have a particular reason for it, but I was never able to get totally drawn in. However, I still did like the story and I thought the ending was sweet.
Marriage Made in Money
was a nice historical romance. Though not particularly amazing, it was a good read. Romance lovers, you might want to check this book out.
*I received a complimentary copy from the publisher in exchange for an honest review