Welcome to my post for the I've Got My Duke to Keep Me Warm book tour! I have a review coming up, as well as an excerpt and a giveaway for copies of I've Got Me Duke to Keep Me Warm. But, first, allow me to introduce the book: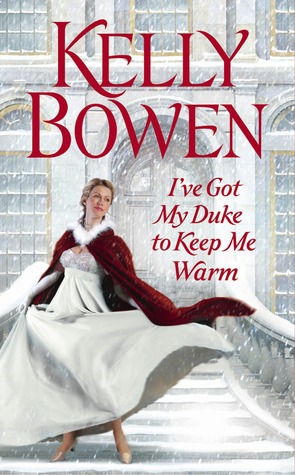 Release date: December 16, 2014
Publisher: Forever
Genre: Historical (Regency) Romance
Series: The Lords of Worth #1


Where Secrets Smolder...

Calm. Cool. Collected. Gisele Whitby has perfected the art of illusion—her survival, after all, has depended upon it. Years ago, to escape an abusive husband, Gisele "disappeared." Now she must risk revealing her new identity to save another innocent girl from the same fate. But she needs a daring man for her scheme, and the rogue in question shows a remarkable talent . . . for shattering Gisele's carefully constructed façade and igniting her deepest desires.

...Passion Ignites.

This isn't the first time Jamie Montcrief has awakened naked and confused from a night of drinking. It is, however, the first time a stunningly beautiful woman offers him payment afterward. Gisele has a business proposition for him, a mission involving cunning thievery and a brazen rescue. How can he say no to a plot this dangerous . . . and a woman this delectable?


My Rating: 5 Roses
A fantastic historical romance that managed to be different enough to really pique my interest, I've Got My Duke to Keep Me Warm was a lovely read that I really liked. With engaging character, plenty of secrets, and the constant worry of discovery, this book was a delight and I really enjoyed it.

Gisele was certainly a strong heroine. She survived her husband's abuse, got herself and her stepdaughter away from him, and used her knowledge to help other women in her situation. And, when it came time to face her worst fear to prevent another from making the mistake of marrying a monster, she did it without hesitation. She was a kind, tough, and a truly wonderful heroine who I really liked.

Jamie was a delight as well. He was the epitome of a gentleman, if not by birth, then by the way he treated everyone with respect and never hesitated in helping other people. He wanted to help Gisele not only for the job it provided, but because he also genuinely thought it was the right thing to do. He was a total sweetie and I adored him.

The romance was lovely. The build up of the characters learning to trust each other, then fall in love with each other, was well done. They were a perfectly matched couple, in their strength and kindness. And, they definitely had enough chemistry between them to turn the heat up. I thought they were wonderful together.

The plot moved quickly and kept me hooked all the way through. The constant threat of Gisele being discovered while she was in London kept me on the edge of my seat and all those secrets certainly made things more interesting. I really liked the story and the ending was perfect.

I've Got My Duke to Keep Me Warm was an absolutely delightful, truly lovely historical romance. It was sweet, suspenseful, and full of intriguing secrets. Romance lovers, this is definitely a book you won't want to miss.
*I received a complimentary copy from the publisher in exchange for an honest review
______________________________________________________________
Well, shit. He deserved that. "Who
are
you?"
She smiled at him, the first genuine smile he had seen, and it did strange things to his chest.
"I am… just Gisele."
That was helpful. He knew nothing more about her than he knew last night.
Annoyance bubbled up again. "Very well then Just-Gisele, since you won't tell me anything useful about yourself, would you be so kind as to enlighten me as to what it is you'd like me to do should I accept your generous offer of employment?"
Her smile turned brittle. "Not yet."
"Not yet?" Jamie's eyebrows shot up to his hairline. "How the hell am I supposed to make a decision based on
not yet
?"
The ice queen shrugged. "You'll have to trust me."
Jamie closed his eyes, fighting for patience. "Will I need to steal something?"
"Unlikely."
"Kill someone?"
"Hopefully not."
"Blow something up?"
"You're familiar with explosives?"
His eyes popped open at the undisguised interest in her last question. What the hell kind of woman used the word
explosives
the way most used the word
marmalade
? Or
teapot
?
"Yes?" He was afraid of his answer. Truth be told, he was a little afraid of her at the moment.
______________________________________________________________
Up for grabs are 5 copies of I've Got My Duke to Keep My Warm.
Good luck!
a Rafflecopter giveaway
About the Author:
Kelly Bowen grew up in Manitoba, Canada. She worked her way through her teenage years as a back country trail guide and ranch hand and spent a year working on a cattle station in Australia. She attended the University of Manitoba and earned a Master of Science degree in veterinary physiology and endocrinology.

But it was Kelly's infatuation with history and a weakness for a good love story that led her down the path of historical romance. When she is not writing, she seizes every opportunity to explore ruins and battlefields.

Currently, Kelly lives in Winnipeg with her husband and two boys, all of whom are wonderfully patient with the writing process. Except, that is, when they need a goalie for street hockey.