Click on the banner for the full schedule.
Welcome to my post for the His Saving Grace book tour! I have a review coming up, as well as an excerpt and a giveaway for a $25 gift card and a Loveswept mug and tote. But, first, allow me to introduce the book: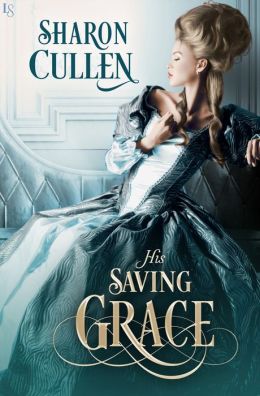 Release date: December 23, 2014
Publisher: Loveswept
Genre: Historical (Victorian) Romance

Perfect for fans of Mary Balogh, Sharon Cullen's captivating novel tells the deeply emotional tale of two devoted lovers facing the ravages of war.

For months now, Lady Grace Ashworth has mourned the death of her beloved husband—until the day a very-much-alive Michael arrives at her front door. It's nothing less than a miracle. However, Grace soon realizes that this Michael isn't the same man who left for the Crimean War. She's stunned to learn that he has suffered a devastating head injury. Putting all her own desires aside, Grace resolves to devote herself to Michael's recovery and to love him no matter what troubles may come.

Convinced that his wife is wasting her time on a broken man, Michael attempts to shield Grace from a life of inconvenience by driving her away. But Grace will have none of that. Despite every obstacle Michael throws in her path, she stubbornly soldiers on, fighting not only for their marriage but for the love they once shared. In the end, will her determination alone be enough to save Michael from the darkness that threatens to consume him?


My Rating: 5 Roses
A deeply emotional, heart-achingly romantic read, His Saving Grace was a fantastic historical romance. I really liked this book. It was a different romance about the constancy of love and I really enjoyed it.
Grace was a lovely heroine. No matter how difficult things became, she was determined to keep hold of her love and fight for her marriage. She was also realistic. She had her moments of grief and despair, but that didn't keep her from continuing her fight. And she proved that she could be a total badass and get things done (I loved how calmly and neatly she dug up information about Michael's scheming brother and blackmailed him into backing down). I thought she was a great character and I really liked her.
Michael was an interesting character. He had a head injury from the war and it damaged his short term memory so that he easily forgot new information. He had to deal with a whole lot of hopelessness and anger and fear that everyone might have been happier if he had stayed away. But, through it all he always thought of Grace and valued her love above everything else. He was a sweetie and I really liked him as well.
The romance was great. Grace and Michael loved each other deeply and I liked that, when things seemed darkest, they always made sure to say that they loved each other. And, they certainly had enough chemistry to turn up the heat. I thought they were a perfect couple.
The plot was steadily paced, with the focus more on the internal conflict of the characters, and I was kept engaged the entire way through. I really liked how clearly and realistically the emotions were portrayed in a way that made me really feel them and sympathize with the characters. I absolutely loved the story and the ending was perfect.
His Saving Grace was a gem of a read that I really loved. It was realistically and deeply emotional and wonderfully romantic and I enjoyed every bit of it. Romance lovers, this is a book you won't want to miss.
*I received a complimentary copy from the publisher in exchange for an honest review
________________________________________________________________
Never had she imagined that their innocent friendship would lead to a
marriage proposal
.
"Of course I accepted on your behalf," Nigel said.
Grace took a few moments to breathe deeply and form her thoughts.
Don't panic. Keep calm. Speak rationally
. "That is very kind of Sir Timmons to offer, and of course, I appreciate that you have nothing but the best intentions toward my welfare." She was proud that she didn't choke on those false words. Nigel had never given a second thought to her welfare. "But I do not wish to remarry."
Nigel looked at her with pity. "You cannot possibly live the rest of your life as the dowager countess of Blackbourne. You are far too young to molder away in the dower house. Eventually you will want to find someone to spend the rest of your life with. Sir Clayton Timmons is an excellent match."
She had to grit her teeth and count to three before speaking. First of all, she hated the term "dowager." It implied that she was old, and while there certainly were times when she felt old, Nigel was correct: She wasn't too far gone. Second, the term reminded her that Michael was dead, and that thought always brought with it a fresh wave of grief. Third, she knew Nigel would like nothing more than to pawn her off on Sir Timmons. If not Timmons, then the next poor sap who came along, because Nigel was the definition of greedy, and it ate at him that he had to pay her a third of the estate's income, as befitting her dowager status.
"I have no intention of living the rest of my life with someone else, Nigel, and every intention of remaining the dowager countess of Blackbourne."
His eyes narrowed, and two dark spots of color tinged his cheeks. "I believe you've mistaken the purpose of this meeting, Grace. I did not call you here to ask your opinion. I've called you here to tell you that I've already accepted Sir Timmons's proposal on your behalf. "
For so long Grace had lived in a vacuum of nearly debilitating grief that to feel such intense anger was surprising and somewhat welcoming. "It's only been ten months since Michael's death."
"While it isn't done often, it is entirely acceptable for a widow to marry after ten months. Besides, Michael left for war over thirteen months ago. We are all quite certain that there is no issue from your marriage to my brother."
No issue from your marriage
. No, there was no issue. No child to pass the earldom on to from Michael, and wasn't Nigel pleased about that.
"However . . ." Here Nigel appeared pained. "Timmons expressed the same sentiment and insisted that we wait out the remaining two months. The first of the banns will be read in three weeks. Three weeks after the last bann is read, you will be wed. That puts your mourning at exactly one year."
Well. It seemed they had it all planned out. And what about her feelings? Why hadn't she been consulted? Her anger stretched to encompass Sir Timmons. He should have discussed it with her before going to Nigel.
"My lord," she implored, "I need more time." She hated having to lower herself to pleading. For nearly ten months, she'd stayed away from Blackbourne Manor and the new earl and countess. As soon as the news of Michael's death had reached Nigel, he'd wasted no time in traveling to the family seat and moving into the manor house, hustling Grace to the dower house, not even waiting for the servants to air it out and make it presentable.
Grace struggled for breath. Her fingers had become numb from clutching them so hard.
________________________________________________________________
Up for grabs is a $25 gift card and a Loveswept mug and tote.
Good luck!
a Rafflecopter giveaway
About the Author:
Sharon Cullen is the author of the historical romances The Notorious Lady Anne, Loving the Earl, and Pleasing the Pirate, as well as many novels of romantic suspense, paranormal romance, and contemporary romance. If you'd like to find out more about the author and her books, you can visit her blog or her website. She is addicted to social networking so you can find her on Facebook and Twitter. Friend her! Like her! Follow her! She'd love to hang out with you and talk about her passion: books.