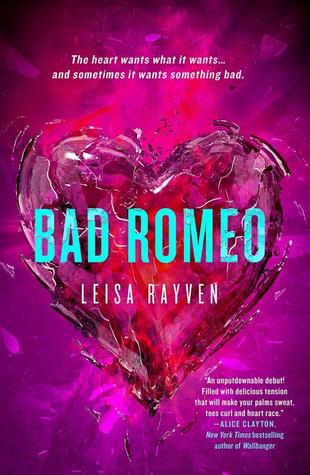 Release date: December 23, 2014
Publisher: St. Martin's Press
Genre: New Adult Contemporary Romance
Series: The Starcrossed Series #1


When Cassie Taylor met Ethan Holt at acting school, sparks flew. She was the good girl actress. He was the bad boy about campus. But one fated casting choice for Romeo and Juliet changed it all. Like the characters they were playing, Cassie and Ethan's romance seemed destined. Until he broke her heart and betrayed her trust. Now the A-list heartthrob is back in her life and turning her world around. One touch at a time.

Cast as romantic leads once again, they're forced to confront raw memories of the heartbreaking lows and pulse-pounding highs of their secret college affair. But they'll also discover that people who rub each other the wrong way often make the best sparks.


My Rating: 4 Roses
A truly wonderful New Adult romance,
Bad Romeo
was a fantastic read. It was emotional, romantic, and I really enjoyed it.
This book switched back and forth between the past, when Cassie and Ethan first met, to the present, when they're reunited after 3 years. I think that was really well done. The transitions flowed well and I was never confused as to when we were. It worked for the story, to see the progression of their relationship in both past and present.
Cassie was a great heroine. She started off as innocent and a real people pleaser, afraid to voice her own opinion for fear of going against the crowd. As time went on, she became stronger, more confident, and ultimately a lovely character.
Ethan was a complicated character. Sometimes, he could be a real ass. He had a lot of trust issues and that made him act the idiot. Other times, he was so sweet and truly adorable and he showed how nice of a guy he could be. After having left Cassie, he worked on himself and became a better person. By the end, I thought he was wonderful.
The romance was okay. It started off well, in both timelines. The chemistry between Cassie and Ethan was explosive and there were sparks flying between them constantly. It was clear that they were perfect for each other, and they just had to work through their issues. In the last quarter of the book or so, though, things started to drag. Things just seemed to go around in circles and it took so long for anything to actually come of it. That brought the book down a little for me. However, I still liked it and I still thought Cassie and Ethan were great together.
The plot was well paced, though, as I mentioned, it started to get slow near the end. The story was emotional and enjoyable the entire way through. The ending tied things up, though I know there is a sequel coming up. I'm looking forward to see how things go for Cassie and Ethan.
Bad Romeo
was a fantastic New Adult Romance that I really liked. Romance lovers, this is a book worth the read.
*I received a complimentary copy from the publisher in exchange for an honest review