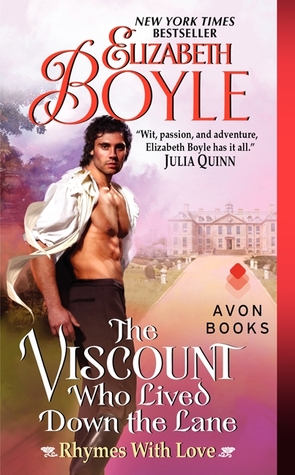 Release date: October 28, 2014
Publisher: Avon
Genre: Historical (Regency) Romance
Series: Rhymes with Love #4


In New York Times bestselling author Elizabeth Boyle's fourth novel in the Rhymes With Love series, a resolute young woman goes toe-to-toe with the Beast of Mayfair...

She has no desire for love...

As she arrives in Mayfair, Louisa Tempest is horrified when her incorrigible cat bolts from the carriage and dashes into a neighbor's house, where she comes face-to-face with the reclusive Viscount Wakefield. But even more dismaying than his foul temper is the disarray in which she finds his home. Convinced his demeanor would improve if his household were in order, Louisa resolves to put everything to rights.

...until she meets the viscount who lives down the lane.

Much to his chagrin, Wakefield finds it impossible to keep the meddling Louisa out of his home, invading his daily life with her "improvements," and his nights with the tempting desires she sparks inside him. Wounded in the war, he's scorned society ever since his return . . . until Louisa opens the door to his heart and convinces him to give love a second chance.



My Rating: 4 Roses
A light and charming read,
The Viscount Who Lived Down the Lane
was a lovely historical romance. It was a sweet read that I really enjoyed.
Louisa was a lovely heroine. She was clumsy and meddlesome, but she always had the best of intentions. She always saw the best in people, but she also didn't allow herself to be a doormat. She was a great character and I ended up liking her.
Wakefield was also great. He liked to bluster and had spent several months wallowing in self pity, but it didn't take long to see the man he really was beneath all that. He was sweet, kinder than he let on, and, when he fell in love, he fell hard. He certainly didn't do anything by half measures. I thought he was wonderful.
The romance was sweet. Despite neither of them wanting to admit their feelings, it was clear that they were smitten right away. And, there was some chemistry between, but it was a mostly sweet romance.
The plot was well paced and I was kept interested the entire way through. This is isn't a particularly substantial story, or one that was especially engaging. It was more of a light read that just makes you smile. I enjoyed the story and the ending tied up the romance, while leaving things open for Lavinia's story in the next book.
The Viscount Who Lived Down the Lane
was a delightful historical romance that I really liked. It was a light, sweet read that was enjoyable all the way through. Romance lovers, this is a book worth checking out.
*I received a complimentary copy from the publisher in exchange for an honest review