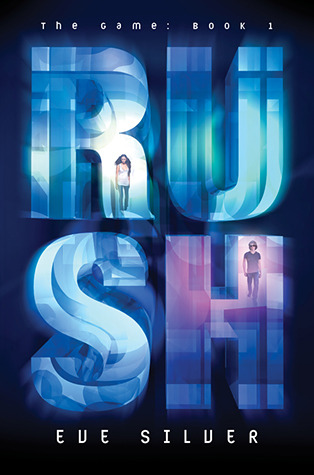 Release date: June 11, 2013
Publisher: Katherine Tegen Books
Genre: YA Sci-Fi/Romance
Series: The Game #2


So what's the game now? This, or the life I used to know?

When Miki Jones is pulled from her life, pulled through time and space into some kind of game—her carefully controlled life spirals into chaos. In the game, she and a team of other teens are sent on missions to eliminate the Drau, terrifying and beautiful alien creatures. There are no practice runs, no training, and no way out. Miki has only the guidance of secretive but maddeningly attractive team leader Jackson Tate, who says the game isn't really a game, that what Miki and her new teammates do now determines their survival, and the survival of every other person on this planet. She laughs. He doesn't. And then the game takes a deadly and terrifying turn.


My Rating: 5 Roses
Imaginative, thrilling, and very intriguing,
Rush
was a fantastic YA sci-fi read. I absolutely loved this book. From the interesting world that was created, to the endless thrills, and the lovely romance, this book was amazing.
The world-building was great. It started off a little confusing but, as we got more explanation, I became more and more drawn into the world of invading aliens. It was well thought out and very interesting, a world that I was really intrigued by.
Miki was a wonderful heroine. She was definitely a fighter, strong and resilient and not willing to take crap from anyone. She held her own in a world of predatory aliens and was a truly likable character. I thought she was great.
Jackson took a little longer to grow on me. At first, he was frustratingly secretive and ambiguous. But, as we got more explanation, I understood why he was so reluctant to share his secrets and the circumstances of his past made him a sympathetic character. He proved himself to be loyal, a total badass, and very sweet when he wanted to be. By the end of the book, I really liked him.
The romance developed slowly, which I liked. Miki and Jackson were both tough and strong-willed, so they were a perfect match. I thought they were great together but after that ending, I just hope they meet again.
The plot was fast paced and I was totally hooked the entire way through. There were plenty of thrills and secrets to keep me on the edge of my seat. I really liked the story and the ending definitely has me curious about what happens next.
Rush
was a fantastic YA read that I totally loved. It was full of thrills, secrets, and some delightful romance. YA lovers, this is definitely a book you'll want to read.
*I received a complimentary copy from the publisher in exchange for an honest review