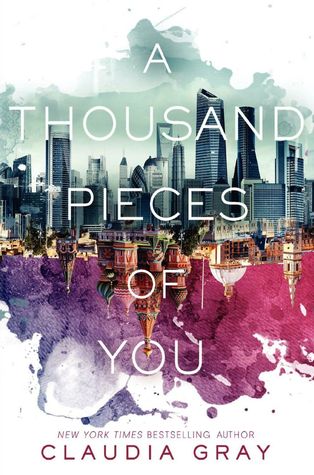 Release date: November 4, 2014
Publisher: Harper Teen
Genre: YA Sci-Fi Romance
Series: Firebird #1

Marguerite Caine's physicist parents are known for their radical scientific achievements. Their most astonishing invention: the Firebird, which allows users to jump into parallel universes, some vastly altered from our own. But when Marguerite's father is murdered, the killer—her parent's handsome and enigmatic assistant Paul—escapes into another dimension before the law can touch him.

Marguerite can't let the man who destroyed her family go free, and she races after Paul through different universes, where their lives entangle in increasingly familiar ways. With each encounter she begins to question Paul's guilt—and her own heart. Soon she discovers the truth behind her father's death is more sinister than she ever could have imagined.

A Thousand Pieces of You explores a reality where we witness the countless other lives we might lead in an amazingly intricate multiverse, and ask whether, amid infinite possibilities, one love can endure.


My Rating: 5 Roses
A sweeping, engaging read, full of sweet romance and surprising secrets,
A Thousand Pieces of You
was a fantastic YA sci-fi romance. This book was amazing and I absolutely loved it! Simply brilliant!
The world building for this book was good. My nit-picky side had a few issues with the explanation for time travel. For the most part, it was well explained, but there were just a few little things that nagged at me. But, that was my only issue. I loved how the author took the time to establish each setting as the characters entered a new dimension. We saw dimension that looked just like normal life, one that had much more advanced technology, one that had a world of rising ocean levels with people living in underwater cities, and one that was still going through the Industrial Revolution. All of the worlds were detailed and interesting in their own ways. I really liked how, since each setting was so well described, it felt like I got several stories in one. And there were a few ideas that I found interesting, like how fate could be a science or how each person retained their soul, no matter which dimension they were in. I just loved how it was all done. It really made this book something different.
Marguerite was a great heroine. She was very determined and more clever than most people gave her credit for. Her tendency to jump to conclusion was a bit frustrating but, other than that, I thought she was lovely.
Paul was wonderful. He was so very sweet and loyal to those he cared about. Nothing could stop him from helping out his loved ones and he had the courage and cleverness to do just that, even in the very tangled situation he found himself in. He was just amazing, in every dimension we found him in, and I totally adored him.
The romance was lovely. It was so sweet! I loved how Marguerite and Paul were simply meant to be together and they found a way in every dimension they were in. I thought they were a perfect couple.
The plot was fast paced and I was totally hooked the entire way through. There were so many twists, and secrets, and a wholly unexpected betrayal, all of which had me on the edge of my seat. I loved the story and the ending was lovely. Can't wait for book 2!
A Thousand Pieces of You
was a brilliant YA read. I absolutely loved this book! From the thrills, to the secrets, and the lovely romance, this book was fantastic. YA lovers, this book is a must read.
*I received a complimentary copy from the publisher in exchange for an honest review