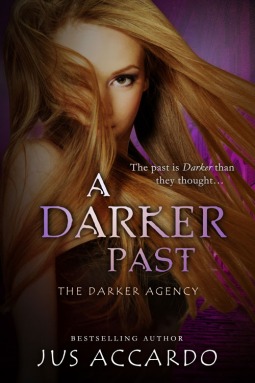 Release date: November 11, 2014
Publisher: Entangled Teen
Genre: YA Paranormal Romance
Series: The Darker Agency #2

The past is Darker than they thought…

Between helping her mother with the Darker Agency and laying the smack down on monster baddies, Jessie Darker puts the "normal" in paranormal. But lately, things have gotten a little crazy…even for a smart-assed half-demon teenage girl.

For starters, Jessie's been contracted into fifty-five years of annoying servitude. To a demon. Then there's Lukas Scott, her sexy new boyfriend. Once the former incarnation of Wrath, he's been going through some…uh, changes. Like residual anger. And trading chaste hangouts for lusty make-out sessions.

But it's when Lukas and Jessie accidentally release a Very Nasty Demon that things get really bad, setting into motion a chain of death and mayhem that threatens both Earth and the Shadow Realm. Jessie has exactly four days to fix it…before all of Hell breaks loose.

(This book can be read as a standalone)


My Rating: 5 Roses
A thrilling and thoroughly entertaining YA paranormal romance,
A Darker Past
was a wonderful sequel that I really enjoyed. I thought it was a lovely read.
Jessie was great. Clever and feisty, she definitely livened up the pages. Lukas was wonderful as well. Sweet and determined to be a better person, even with the effects of Wrath still lingering. I thought they were both as likable as ever.
The romance was lovely. Jessie and Lukas still had some obstacles to overcome, particularly with the changes going on with Lukas, but what made them a great couple was that they knew how to work through them. Despite everything, they were always sure of their feelings for each other. I thought they were great together.
The plot moved quickly and had me hooked the entire way through. There were plenty of thrills along the way, and a few surprises in store. I really enjoyed the story and the ending had me curious about what will happen next.
A Darker Past
was a wonderful YA paranormal romance that I really liked. It was a lovely sequel that definitely won't disappoint, though there was enough explanation that it could be read as a standalone. YA lovers, this is a book worth checking out.
*I received a complimentary copy from the publisher in exchange for an honest review