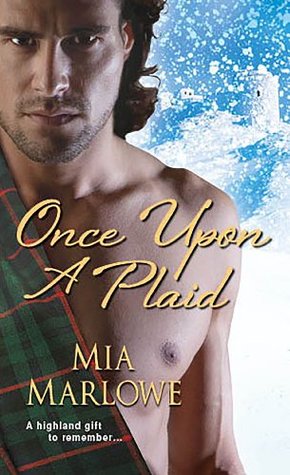 Release date: October 7, 2014
Publisher: Kensington: Zebra
Genre: Historical (Highlander) Romance
Series: Spirit of the Highlands #2


A wife may be courted, too…

Many would count Katherine Douglas fortunate indeed. Laird William Douglas is broad-shouldered, gentle-handed, everything a lass could dream. But after four years of marriage, Katherine still knows little of what goes on in his heart. And she has yet to bear him an heir. The distance between them is too great—and so she flees over the snowy highlands to Glengarry Castle, home of her childhood, to set her husband free.

But William won't let his wife slip away without a fight. Before long, he's at her father's threshold himself, witness to the rumbles of discontent in Glengarry, the bright joy of Yuletide at a family hearth, and the hidden needs of his own beloved…


My Rating: 3 Roses
An emotional and sweet romance,
Once Upon a Plaid
was an enjoyable holiday read. With a couple struggling through a vast emotional distance and a would-be heir stirring up trouble, this book was a lovely read that I quite liked.
Katherine was a good heroine. She was weighed down by the loss her unborn children and she was, in her own way, trying to be selfless about the situation. However, it just seemed a bit foolhardy. I understand that she was trying to annul the marriage so that William could marry a woman that could give him children, but she just made the situation worse (it's not like he had no heirs, with his nephews, and I'm not sure why it didn't occur to her that William would be more upset about her leaving than about not having children). Also, she seemed to underestimate how difficult getting an annulment would be, especially because the wife would be applying and the husband was against it (so they probably would rule in favor of the husband and uphold the marriage). This didn't make her an unlikable heroine, just one that I wanted to shake some sense into. But, overall, I thought she was fine.
William was a sweet man, determined to convince his wife to stay with him. To be honest, he really needed to work on his communication. So many times, he wanted to say the exact thing that would have made Katherine let go of the annulment, but he could never say it, for some reason. But, he was kind man, one who was devoted to his wife and wouldn't give up on her. So, despite his extremely poor communication skills, I liked him.
The romance was sweet. The book was, for the most part, about Katherine and William bridging the gap that had come between them. So, we got to know the workings of their relationship and the feelings the were hesitant to give voice to. Despite any issues between them, it was always obvious that they loved each other. And, the definitely had some chemistry, though the heat level was on the lower side. I thought they were a lovely couple.
The plot was steadily paced and, though I wasn't totally hooked, I was kept interested the entire way through. The whole issue with Katherine's cousin trying to claim his uncle's lands added a bit of thrills. I enjoyed the story and the ending was lovely.
Once Upon a Plaid
was a sweet historical romance that I enjoyed reading. Romance lovers, this is a book you might want to check out.
*I received a complimentary copy from the publisher in exchange for an honest review