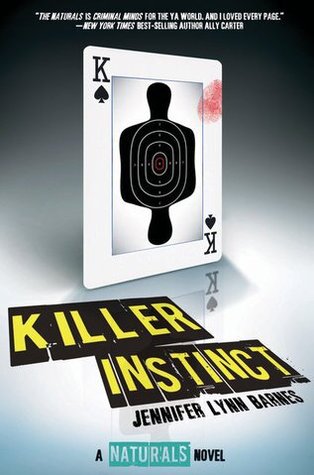 Release date: November 4, 2014
Publisher: Disney-Hyperion
Genre: YA Thriller/Suspense
Series: The Naturals #2

Seventeen-year-old Cassie Hobbes has a gift for profiling people. Her talent has landed her a spot in an elite FBI program for teens with innate crime-solving abilities, and into some harrowing situations. After barely escaping a confrontation with an unbalanced killer obsessed with her mother's murder, Cassie hopes she and the rest of the team can stick to solving cold cases from a distance.

But when victims of a brutal new serial killer start turning up, the Naturals are pulled into an active case that strikes too close to home: the killer is a perfect copycat of Dean's incarcerated father—a man he'd do anything to forget. Forced deeper into a murderer's psyche than ever before, will the Naturals be able to outsmart the enigmatic killer's brutal mind games before this copycat twists them into his web for good?

With her trademark wit, brilliant plotting, and twists that no one will see coming, Jennifer Lynn Barnes will keep readers on the edge of their seats (and looking over their shoulders) as they race through the pages of this thrilling novel.


My Rating: 5 Roses
With thrilling mystery, intriguing secrets, and a touch of romance,
Killer Instinct
was a brilliant YA read. I was hooked from page 1 and kept on the edge of my seat the entire way through. It was a sequel that managed to top the first and I enjoyed every bit of it. Loved this book!
Cassie was likable in book 1 and I liked her even more in this book. She was very loyal to the people she cared about, determined to catch a killer, and clever enough to do just that. She got more comfortable in her skills and her growth as a profiler was plain to see. She was a fantastic character and I really liked her.
We get to know more about all the other naturals as well. We learn more of Lia's past and what made her so loyal to Dean. We see more of Sloan and of the person she was beneath the numbers she was so enamored with. We see how Michael, despite what he tried to portray, was truly loyal to all of his friends and that there was much more to him that he showed. And, of course, Dean, who had the most character development.
Dean had to go through a lot in this book, being confronted with his father and his past again. And, it forced him out of his self-imposed shell so that we get to see so much more of him and finally understand what makes him so closed off. He's not brooding to look cool. He truly had every reason to shut down and understanding that allowed me to understand his character so much more. He was just wonderful and I really liked him and all the other naturals.
Like book 1, the romance in this book was light, with the characters focused on a murder mystery. But, it did move forward and I liked how it did. I won't say who it moved forward with, but I thought it was sweet.
There were some new characters introduced in this book, most important of whom were Agent Sterling and Daniel Redding. Angent Sterling had an interesting past tied up with Dean and, though she came off as a snobby agent with a stick up her butt, she loosened up and proved that she was an agent who would do anything to catch a killer and keep innocent people safe. Daniel Redding was an eminently interesting character. He was a horrible person, one who delighted in mind games and manipulations, but he was such an intriguing character. Even if prison, he managed to pull string in the outside and continue to haunt Dean. I thought he was brilliantly portrayed.
The plot was fast paced and I was riveted the entire way through. The intriguing mystery, constant thrills, and dark secrets kept me on the edge of my seat. The mystery was brilliantly done. I had suspicions as the book went on, but I never suspected the extent of the killer and how it was tied to the other characters. I loved the story and the ending was lovely. I can't wait to read more from this amazing series!
Killer Instinct
was a brilliant YA read, filled with mystery, danger, thrills, and a sprinkle of romance. It kept me hooked right from the start and I loved every bit of it. Fans of book 1, you will love this sequel. And, YA lovers, this series is a must read
*I received a complimentary copy from the publisher in exchange for an honest review