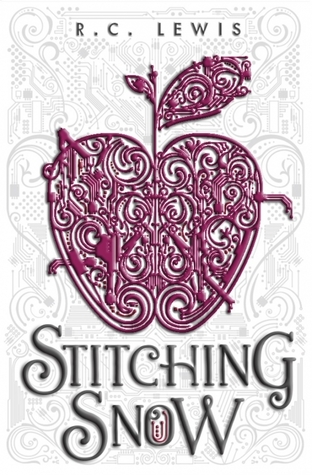 Release date: October 14, 2014
Publisher: Disney-Hyperion
Genre: YA Fantasy Romance/Retelling

Princess Snow is missing.

Her home planet is filled with violence and corruption at the hands of King Matthias and his wife as they attempt to punish her captors. The king will stop at nothing to get his beloved daughter back—but that's assuming she wants to return at all.

Essie has grown used to being cold. Temperatures on the planet Thanda are always sub-zero, and she fills her days with coding and repairs for the seven loyal drones that run the local mines.

When a mysterious young man named Dane crash-lands near her home, Essie agrees to help the pilot repair his ship. But soon she realizes that Dane's arrival was far from accidental, and she's pulled into the heart of a war she's risked everything to avoid. With the galaxy's future—and her own—in jeopardy, Essie must choose who to trust in a fiery fight for survival.


My Rating: 4 Roses
A dark, futuristic retelling of Snow White, full of sweet romance and shocking secrets,
Stitching Snow
was a fantastic YA read. It was a delightfully dark re-imagining and I really liked it. It was a great twist on an old tale.
The world-building for this book was good. I liked how that author turned the fairy tale into a futuristic story, complete with Snow White and the seven drones. I wish the world-building had been more solid, though. As it is, it took me several chapters before I got the gist of how the world worked and, even then, I still didn't feel like I really got a full understanding of it all. But it wasn't bad enough that it ruined the book. Overall, it was decent world-building.
Essie was a good heroine. She was strong and determined to survive and help the people who had been hurt by her father and stepmother. My only issue with her was that I wished she had stepped up earlier and really put up a fight. But, she did get to that point eventually, so it wasn't a big deal. For the most part, she was tough and clever and a likable character.
Dane was wonderful. He was so sweet and so endearing. I loved how he was absolutely determined to help Essie, no matter that case, and would do anything to keep her safe. He was amazing and I totally adored him.
The romance was sweet. Essie and Dane were definitely a match for each other, with them both being so strong-willed. I liked how, despite a rocky start, they were loyal to and determined to protect each other. I thought they were a great couple.
The plot was well-paced. I wasn't totally hooked, but I was kept engaged the entire way through. There were tons of surprises in store, as well as some dark secrets that I never saw coming. I really enjoyed the story and the ending was perfect.
Stitching Snow
was a dark and lovely retelling of Snow White. From the sweet romance, to the dark secrets, this book was fantastic. YA lovers, this is a book worth checking out.
*I received a complimentary copy from the publisher in exchange for an honest review