Click on the banner for the full schedule.
Welcome to my post for the Once Upon a Player book tour! I have an excerpt and a giveaway for copies of Once Upon a Player and swag. But, before we get to all that, allow me to introduce the book: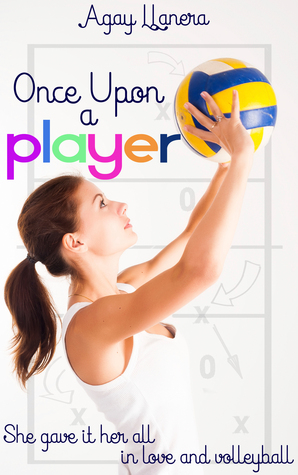 Genre: New Adult Contemporary Romance

Gorgeous college senior Val Fabian is a player in every sense of the word. She's the star spiker of her university's volleyball team, and she never runs out of dates. But it seems that this year, she has finally been bitten by the commitment bug. She sets her sights on an unexpected target--the unassuming yet ultra-cute Jake Clementia. Val is used to getting what she wants, and is sure she'll snag him before graduation. But in the process of winning his heart, she is sideswiped by a surprise move that sends her tumbling from her pedestal.

Goodreads

|

Amazon | Smashwords
_________________________________________________________________
She turned to go out towards the garden again when she felt the sudden urge to make one final sweep of the place. Maybe destiny finally decided to step in because just like that, she saw him emerging from the rest room. He looked as he always did—at ease with himself and the world, a half-smile playing on his lips, his hair back in that buzz cut she had first imposed on him.
She stayed rooted to her spot, unable to move, to think. She built her entire day around this one crucial moment, did everything she could to reach it, and when it was finally there, all hers for the taking, she didn't know what to do with it.
Val forced her limbs to function again and walked towards him—slowly at first, then briskly. Rush, rush, rush.
Then he looked up. And like a charging toy train that was suddenly switched off, Val came to an abrupt halt.
They stared at each other, several feet apart, Val feeling like a deer caught in the headlights. His eyes had that effect on her, especially now that she knew she was in love with him. They stayed like that for what felt like an eternity when he slowly walked up to her.
_________________________________________________________________
Up for grabs are copies of Once Upon a Player and swag.
Good luck!
a Rafflecopter giveaway
About the Author:
Agay Llanera is a freelance writer for television and a published writer of children's books. She is a member of KUTING, a private, non-stock, non-profit organization, which aims to be the Philippines' foremost writers' organization for children.
Her first romance novella,
Vintage Love
is available on e-bookstores (Amazon, Kobo, Buqo, Smashwords).