Welcome to my post for the Made for You book tour! I have a review coming up, as well as a giveaway for a copy of Made for You and copies of Melissa Marr's other books. But, first, allow me to introduce the book: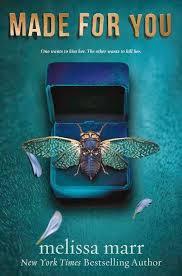 Release date: September 16, 2014
Publisher: Harper Collins
Genre: YA Southern Gothic

Bestselling author of the Wicked Lovely books Melissa Marr's first contemporary YA novel is a twisted southern gothic tale of obsession, romance, and murder. A killer is obsessed with Eva Tilling. Can she stop him, or will he claim her?

When Eva Tilling wakes up in the hospital, she's confused—who in her sleepy little North Carolina town could have hit her with their car? And why? But before she can consider the question, she finds that she's awoken with a strange new skill: the ability to foresee people's deaths when they touch her. While she is recovering from the hit-and-run, Nate, an old flame, reappears, and the two must traverse their rocky past as they figure out how to use Eva's power to keep her friends—and themselves—alive. But while Eva and Nate grow closer, the killer grows increasingly frantic in his attempt to get to Eva.

For the first time, New York Times bestselling author Melissa Marr has applied her extraordinary talent to contemporary realism. Chilling twists, unrequited obsession, and high-stakes romance drive this Gothic, racy thriller—a story of small-town oppression and salvation. Melissa's fans, and every YA reader, will find its wild ride enthralling.


My Rating: 4 Roses
A dark, chilling YA thriller, complete with an intriguing murder mystery and a hint of sweet romance, Made for You was a wonderful read. The mystery had me hooked right from the start and I enjoyed the book for the rest of the way through. This book was just fantastic.

Eva was a great heroine. She could have easily fallen apart after what happened to her, but she pulled herself together and focused her attentions on finding out who the killer was. She was definitely strong and certainly a likable character.

The other main players of the game were Nate and Grace.
Grace was Eva's best friend and the most reasonable of the bunch. She was clever and perceptive and didn't have much care for the social hierarchy that considered her an outsider. She was great and I really liked her.

Nate was the love interest for Eva and he was wonderful. His parents' divorce had change him and led him to break off his friendship with Eva several years ago. But, after finally pulling himself together, he definitely proved himself. I really liked how dedicated he was to his brother and how he was unwilling to let his parents' situation make him bitter. And, he was determined to help keep Eva safe and find the killer. I thought he was a darling.

The romance was fairly light, though definitely a presence throughout the story. Eva and Nate were great together. Before Nate had walked away, they were both starting to feel more than friendship toward each other and that didn't fade over the years. They were definitely sweet together.

I really liked how the perspective switched throughout the book. It wasn't jarring, but instead went with the flow of the book. The chapters in the killer's perspective were particularly awesome. They added something chilling to the narration as we get to see inside the murderer's mind.

The plot was fast paced and I was hooked the entire way through. The murder mystery was definitely intriguing. I started to suspect who it was about halfway through, but it didn't diminish the thrills. My only real issue with the book was that Eva's new powers seemed kind of random. There was no explanation given as to why she got them and how they worked and it made it seem on the verge of unbelievable. I needed at least some explanation as to how they came to be and the only thing that was said was that she got them after her near-death experience. It might just be me, but I needed more than that. Otherwise, I really enjoyed the story and the ending was perfect.

Made for You was a fantastic YA thriller. Dark, chilling, with touches of romance, this book was great and I really enjoyed it. YA lovers, if you want something that will keep you on the edge of your seat, then this is a book you'll want to check out.
*I received a complimentary copy from the publisher in exchange for an honest review
_________________________________________________________________
Up for grabs are paperback copies of a
ll 5 of Melissa's
Wicked Lovely
books and
The Desert Tale a Wicked Lovely companion book, as well as a
hardcover copy of Made For You. US/Canada only.
About the Author:
Hmm, I'm never good at the bio bit. I used to teach college & bartend, now I write novels. I love to meet new people, to hear their stories, to walk through new streets and see new vistas. I enjoy art in all its guises–graffiti, surrealist paintings, classic sculptures, tattoos, interesting buildings, Renoir, photography . . . Art & nature, they feed my soul & thus my muse.