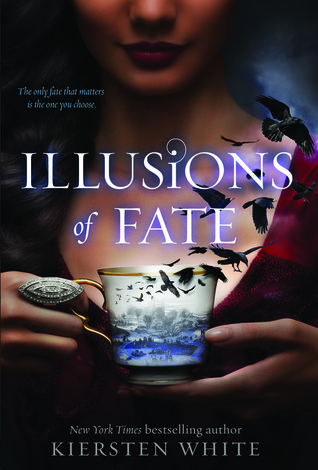 Release date: September 9, 2014
Publisher: Harper Teen
Genre: YA Historical/Paranormal Romance

Downton Abbey meets Cassandra Clare in this lush, romantic fantasy from New York Times bestselling author Kiersten White.

"I did my best to keep you from crossing paths with this world. And I shall do my best to protect you now that you have."

Jessamin has been an outcast since she moved from her island home of Melei to the dreary country of Albion. Everything changes when she meets Finn, a gorgeous, enigmatic young lord who introduces her to the secret world of Albion's nobility, a world that has everything Jessamin doesn't—power, money, status…and magic. But Finn has secrets of his own, dangerous secrets that the vicious Lord Downpike will do anything to possess. Unless Jessamin, armed only with her wits and her determination, can stop him.

Kiersten White captured readers' hearts with her New York Times bestselling Paranormalcy trilogy and its effortless mix of magic and real-world teenage humor. She returns to that winning combination of wit, charm, and enchantment in Illusions of Fate, a sparkling and romantic new novel perfect for fans of Cassandra Clare, The Madman's Daughter, and Libba Bray.


My Rating: 4 Roses
With an alternate historical setting and a healthy helping of magic,
Illusions of Fate
was a delightfully intriguing YA romance. I really liked this lovely book. From the romance, to the thrills, to a truly unexpected secret, this book was fantastic.
The world-building for this book was good. It was set in an alternate Victorian world with magic. The countries had different names, but it was easy to find the parallel. The whole set up of the world was well done and the descriptions of magic explained enough that I never got confused. There could have been more expansion, but it wasn't necessary to the plot, just for my curiosity. Otherwise, great world-building.
Jessamin was a good heroine. At first, I didn't like her very much. She came off as judgmental and, while I understood and liked her strength and strive for independence, she was often stubborn just for stubbornness' sake. And, I didn't like how selfish her thinking was a first. She was frustratingly unconcerned about the possibility of a huge war, so long as it didn't affect her. However, as the book went on, she rethought her judgement, became more reasonable, and realized that she needed to step up. And, she proved that she was a clever and resilient character who protected her loved ones, no matter what it took. By the end of the book, I quite liked her.
Finn was just amazing. He was very loyal to his loved ones, determined to stop a war (even if he was one of the few standing against it), and clever enough to get himself out of any situation. Not to mention he was SO sweet and just perfect. I totally adored him.
The romance was lovely. After Jessamin stopped being so stubborn, they were a sweet couple. I thought it was adorable how Finn has been infatuated from their first meeting (the whole shadow thing was so romantic), but he was willing to wait for Jessamin. They were lovely together.
The plot was okay. It started off slow. For about the first third, I was only mildly interested. However, after that first part, things started picking up and I became fully engaged in the story. From them on, I was hooked. There were plenty of thrills that kept me on the edge of my seat and a huge secret and betrayal that I never saw coming. Nothing was as it seemed with this villain. I really enjoyed the story and the ending was perfect.
Illusions of Fate
was a wonderful YA romance. I really liked this book. It had thrills, secrets, and a super sweet romance and I enjoyed it all. YA lovers, this is a book worth checking out.
*I received a complimentary copy from the publisher in exchange for an honest review