Welcome to my post for the What a Duke Dares book tour! I have a review coming up, as well as a giveaway for copies of What a Duke Dares. But, first, allow me to introduce the book: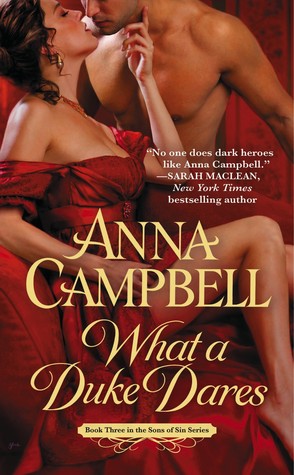 Release date: August 26, 2014
Publisher: Forever
Genre: Historical (Regency) Romance
Series: Sons of Sin #3

A REPUTATION AT RISK

What woman in her right mind would say no to marrying the dashing Duke of Sedgemoor? Miss Penelope Thorne, that's who. She's known Camden Rothermere since they were children-and she also knows she'd bring nothing but scandal to his name.

Cam can hardly believe Penelope turned down his proposal. But if she wants to run off to the Continent and set the rumor mill ablaze, he can't stop her. Then her brother's dying request sends him to bring home the one woman he thought he'd finally gotten over.

The only way they'll both get back to London without their reputations in tatters is to pretend they're married during the journey. That means kissing like they mean it and even sharing a bed-until it becomes hard to tell where the game ends and true desire begins . . .


My Rating: 3 Roses
An enjoyable historical romance that I quite liked, What a Duke Dares was a good read. It wasn't perfect, but I still enjoyed reading it. It was a sweet romance.

Penelope was a good heroine. She was strong and knew to do what was best for her own happiness, rather than give in to others' wishes. There were some parts where I got annoyed with her, like when she somehow got into her head that she needed to act the perfect, reserved duchess to make up for her scandalous past (which seemed a bit out of character) and how, in the beginning, she resented Cam for hurting her even though she was the one who turned down his proposal. Overall, though, I did like her character.

Cam had the same issue with me. On one hand, he could be very sweet and cared about Penelope for who she was, scandalous behavior and all. And, it was clear that he was very loyal to the people he cared for. On the other hand, he could be a total jerk at times. I especially got annoyed with how contemptuous he was, not only of love, but the people who believed in it. If he didn't want to believe in love, fine, but he had no right to be so disdainful of others who chose to believe otherwise. However, like with Penelope, these issues weren't big enough to make me dislike Cam. He might not have been my favorite hero, but I liked him just fine.

The romance was okay. I liked that Penelope and Cam had a bond that allowed the to truly care for each other, even before all the other messy feelings. And, they definitely had a lot of chemistry. I couldn't help but feel, though, that the relationship was a bit forced. It wasn't something that pervaded the whole relationship, but there were some parts where it didn't feel like it flowed naturally. But, other than those few moments, I thought they were great together.

The plot was fast paced and I was hooked the entire way through. Despite any issues I had, I did really enjoy the story and truly like the book. It might not have been perfect, but it was an enjoyable read.

What a Duke Dares was a good historical romance. It was an enjoyable read that, regardless of any issues, I really liked. Romance lovers, this is a book you might want to check out.
*I received a complimentary copy from the publisher in exchange for an honest review
_______________________________________________________________
Up for grabs are 5 copies of What a Duke Dares.
Good luck!
a Rafflecopter giveaway
About the Author:
Always a voracious reader, ANNA CAMPBELL decided when she was a child that she wanted to be a writer. Once she discovered the wonderful world of romance novels, she knew exactly what she wanted to write. Anna has won numerous awards for her Avon historical romances including Romantic TimesReviewers Choice, the Booksellers Best, the Golden Quill, the Heart of Excellence, the Aspen Gold and the Australian Romance Readers Association's most popular historical romance (twice). Her books have twice been nominated for Romance Writers of America's prestigious RITA Award and twice for Australia's Romantic Book of the Year.
When she's not writing passionate, intense stories featuring gorgeous Regency heroes and the women who are their destiny, Anna loves to travel, especially in the United Kingdom, and listen to all kinds of music. She lives near the sea on the east coast of Australia, where she's losing her battle with an overgrown subtropical garden.