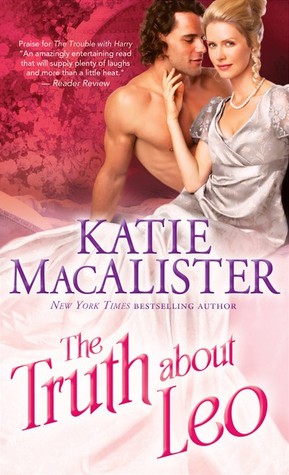 Release date: August 5, 2014
Publisher: Sourcebooks Casablanca
Genre: Historical (Regency) Romance
Series: Noble #4

Can Dagmar flee Denmark

Dagmar Marie Sophie is a poverty-stricken Danish princess whose annoying royal cousin is about to have her stuffed away in a convent. When she finds a wounded man unconscious in her garden, she sees a way out of her desperate situation.

By Lying to Leo?

Leopold Ernst George Mortimer, seventh earl of March, and spy in the service of the king, finds himself on the wrong end of a saber and left for dead. He wakes up not remembering what happened...in the care of a beautiful woman who says she is his wife.

Back in London, Leo-with the help of his old friends the eccentric Britton family-sets out to unravel what he's forgotten... Is Dagmar truly the wonderful, irrepressible woman who makes his heart sing, or is she a dangerous enigma bent on his destruction?


My Rating: 4 Roses
A light-hearted, sweet, and fun read,
The Truth About Leo
was a wonderful historical romance. I really liked this book. It was entertaining and thoroughly enjoyable.
Dagmar was a good heroine. She refused to let anyone, even the king of Denmark, tell her what to do with her life and she was clever (or perhaps impulsive) enough to figure a way out. She was a likable heroine and I thought she was great.
Leo was a total sweetie. He was the definition of a gentleman, totally adorable, and utterly endearing. I really liked him. I thought he was perfect.
The romance was lovely. Dagmar and Leo were great together and I liked how they both didn't bother to hide their feelings for each other. And, the chemistry between them was hot, considering how they both could keep their hands off each other (or, at least, couldn't stop thinking about it). I thought they were great together.
The plot was well paced and I was hooked the entire way through, though the story did start to drag near the end. The story was delightfully funny and entertaining and, though it did cross the line to silly at a few points, it kept a smile on my face. There was a surprise in store that I never saw coming, about one of the characters. I really enjoyed the story and the ending was lovely.
The Truth About Leo
was a wonderful, light, and fun romance. I really liked this thoroughly entertaining read. From the sweet romance, to the surprising secret, and the endless fun, this book was lovely. Romance lovers, this is a book worth checking out.
*I received a complimentary copy from the publisher in exchange for an honest review