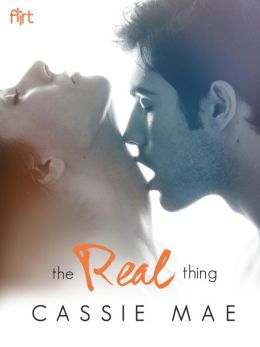 Release date: August 19, 2014
Publisher: Flirt
Genre: New Adult Contemporary Romance

In this electrifying novel from New Adult sensation Cassie Mae, two close friends surprise themselves by shifting from platonic love to sexual attraction.

Eric Matua has one friend—his best friend and childhood sweetheart, who needs a place to stay for the summer. Mia Johnson has thousands of friends—who live in her computer. Along with her email chats and Facebook notifications, Mia also devours romance novels, spending countless hours with fictional characters, dreaming of her own Romeo to sweep her off her feet. When she starts receiving supersweet messages from a stranger who thinks she's someone else, Mia begins to believe that real love is possible outside her virtual world.

When the two friends become roommates, Mia finds herself falling harder than she ever thought she could. But Eric keeps his desires locked away, unsure of himself and his ability to give his best friend what she deserves in a boyfriend. As her advances are continually spurned, Mia splits her time between Eric and her computer. But she soon realizes she's about to lose the only real thing she's ever had.


My Rating: 5 Roses
I LOVED THIS BOOK SO MUCH!
Okay. Now that I got that out of my system, let's see if I can communicate coherently.
Funny, enjoyable, and a delightfully sweet romance,
The Real Thing
was absolutely incredible. The story of an internet-addicted girl and a socially anxious boy going from best friends to lovers, this book was fantastic. I loved every bit of it.
Mia was a great heroine. She was a very realistic character, whose flaws made her more likable because they made her feel real. She, like many people, is seriously addicted to the internet and can't go five minutes without her fingers inching to her phone. Unfortunately, it starts to take a toll and she has to choose between her virtual friends and her real life friend. Cue the drama. But, seriously, I thought she was a lovely character that was easy to relate to. I really liked her.
Eric was such a sweetie.He was so sweet and adorable, I just wanted to give him a hug. Just look at one thing he said:
"I can't tell if hear your heart beating, or if it's mine," I say against his skin. His fingers glide over my shoulder, then trail down to my elbow.

"Aren't they the same thing?"
Isn't that so adorably sweet? I thought it was. He had social anxiety and, because of his shrew of an ex, it only got worse and made being in a relationship difficult for him. Like Mia, his flaws made him real and made him an even more likable character. I absolutely loved him.
The romance was just wonderful. Mia and Eric were so lovely together. I love friends-to-lovers stories and this is a really great example of one. They were such a sweet couple. And, they definitely had some chemistry between them. I thought they were perfect together.
The plot was fast paced and I was hooked the entire way through. I absolutely loved the story and the ending was just delightful.
The Real Thing
was an absolutely fantastic, amazing, delight of a New Adult romance. I loved every bit of this book, from the characters, to the romance, to the wonderful story. This book was so sweet, hilariously funny, and enjoyable all they way through. Romance lovers, this book is a must read.
*I received a complimentary copy from the publisher in exchange for an honest review