Welcome to my post for the Storm Siren book tour! I have a review coming up, as well as a few teasers and a giveaway for copies of Storm Siren. But, first, allow me to introduce the book: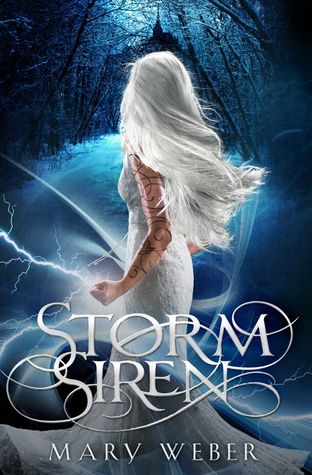 Release date: August 19, 2014
Publisher: Thomas Nelson/Harper Collins
Genre: YA Paranormal Romance
Series: Storm Siren #1


"I raise my chin as the buyers stare. Yes. Look. You don't want me. Because, eventually, accidentally, I will destroy you."

In a world at war, a slave girl's lethal curse could become one kingdom's weapon of salvation. If the curse—and the girl—can be controlled.

As a slave in the war-weary kingdom of Faelen, seventeen-year-old Nym isn't merely devoid of rights, her Elemental kind are only born male and always killed at birth — meaning, she shouldn't even exist.

Standing on the auction block beneath smoke-drenched mountains, Nym faces her fifteenth sell. But when her hood is removed and her storm-summoning killing curse revealed, Nym is snatched up by a court advisor and given a choice: be trained as the weapon Faelen needs to win the war, or be killed.

Choosing the former, Nym is unleashed into a world of politics, bizarre parties, and rumors of an evil more sinister than she's being prepared to fight . . . not to mention the handsome trainer whose dark secrets lie behind a mysterious ability to calm every lightning strike she summons.

But what if she doesn't want to be the weapon they've all been waiting for?

Set in a beautifully eclectic world of suspicion, super abilities, and monsters, Storm Siren is a story of power. And whoever controls that power will win.




My Rating: 3 Roses
To be honest, Storm Siren started slow for me. I was only vaguely interested in the plot and not quite engaged with the characters. But, I kept reading and, a little over halfway through, things took a turn for the exciting. The pace picked up as secrets were revealed and the political machinations upped their game. From then one, it was a nonstop roller coaster of secrets, betrayals, and plenty of twists. By the end of the book, I was hooked and I ended up liking this book. It was a wonderful read that I really enjoyed.

Nym was a defiant character. After facing terrible things as a child and being thrown from slave home to slave home as she grew up, she wasn't about to turn meek. At first, though, she frustrated me a bit. This is a very rare case when the romance blocked the story for me. Going into training, I expected her, as a strong character, to throw herself into learning how to control her power and gaining information about the political situation, for self preservation, if nothing else. But, she mostly just alternatively mooned over Eogan (her trainer), then scolded herself for doing so. It blocked her from showing herself as a strong, resilient character and made her seem shallow. Later, she started to really prove herself, taking the initiative with her training and finally learning how to tug the political strings and throw her very powerful weight around. So, by the end of the book, I liked her.

There were 3 other characters that were major: Eogan, Colin, and Breck. Eogan was the love interest and, though I was okay with him, I wished that I had gotten to know more about him. I knew who he was, what his power was, but I didn't know him, if that makes any sense. Colin was my favorite character. He was sweet and endearing and the joker that lightened the book. Breck was an odd character for me. I wasn't sure if her brashness was supposed to be endearing but it just came off as mean. The players in the political game were all interesting and a couple of them managed to surprise me. All in all, this book had fairly good characters.

The romance wasn't my favorite part. On Nym's side, as I said, I felt like it blocked rather than enhanced her character. On Eogan's side, I didn't feel like I knew him well enough to really root for him. However, I didn't think they were good complements.

The plot was the best and worst part of the book. As I mentioned, it was slow to start, but I was interested enough to keep going. About halfway through, though, the pace picked up and I was hooked from there. There were twists that I never saw coming, secrets that changed the game, manipulations that affected all the characters and a totally surprising ending that blew me away. That was the point that I decided that I really liked the book and now I'm curious to see what happens in the next book.

Storm Siren was a wonderful YA read that I ended up really liking. Despite its slow start, it managed to surprise me and turned out to be a great book. YA lovers, if you're willing to persevere for the promise of a great story, then you'll want to check this book out.
*I received a complimentary copy from the publisher in exchange for an honest review
_________________________________________________________________
_________________________________________________________________
About the Author: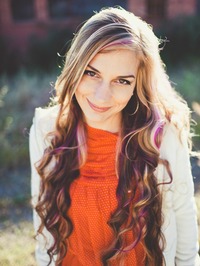 Aside from
Goodreads
, I hang out on
Facebook
,
Twitter
, and my
Blog
. Come say hi!
Officially though: Mary Weber is a ridiculously uncoordinated girl plotting to take over make-believe worlds through books, handstands, and imaginary throwing knives. In her spare time, she feeds unicorns, sings 80's hairband songs to her three muggle children, and ogles her husband who looks strikingly like Wolverine. They live in California, which is perfect for stalking L.A. bands, Joss Whedon, and the ocean. She likes orange trees, tattoos, and ALL the music. ;0)
BOOK 1 in my YA fantasy
STORM SIREN
trilogy releases Aug 2014 from Thomas Nelson, HarperCollins. Eep!
Pinterest