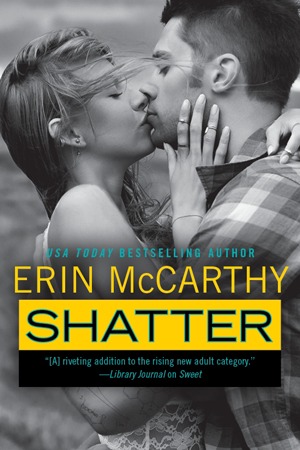 Release date: September 1, 2014
Publisher: Intermix
Genre: New Adult Contemporary Romance
Series: True Believers #4

From the USA Today bestselling author of True, Sweet, andBelieve comes a tantalizing New Adult novel about finding love in the most unexpected ways…

Kylie Warner prides herself on being optimistic, but after finding her best friend in bed with her boyfriend and flunking chemistry, her upbeat attitude has taken a dive. Even an impromptu hook-up with her sexy new chemistry tutor only brightens her mood slightly. After all, it's not like she'll ever see the tattooed scholar again…

While he's a whiz at complex equations, Jonathon Kadisch has trouble when it comes to figuring out women. So when Kylie tells him that she's pregnant after their night of passion, he's at a complete loss. He's prepared to be a good father—unlike his own deadbeat dad—but he's less prepared to fall for the genuine and alluring blonde bearing his child.

With emotions running high, Kylie wonders if Jonathon's devotion is out of growing love or looming obligation. And when heartbreak threatens to tear them apart, Jonathon will have to fight for the only girl who's ever made him feel whole…


My Rating: 5 Roses
As emotional and romantic as the previous books in the series,
Shatter
was a fantastic New Adult romance. I really liked this book. From an unexpected twist to the lovely romance, this book was wonderful.
Kylie was a lovely heroine. She underestimated herself a lot at first but, over the course of the book, she realized her strengths, accepted her failings, and became a stronger person. She had slightly annoying moments where she was prone to being either overly sensitive or unreasonable, but she always realized her mistake and did her best to correct them. She was a great character and I really liked her.
Jonathon was a wonderfully hot, delightfully nerdy science geek and I totally loved that. At first, he was a bit of a contradiction, determined to be a good father to the baby, but rather adamant about not having more than a friendship with the mother. And, he was rudely blunt about it. But, as the book went on, he softened and he proved that he would be there for Kylie no matter what. And, I loved that he had his own nerdy way of being sweet, complete with the cheesy chemistry jokes. I thought he was adorable.
The romance was great. I liked how the relationship wasn't rushed, because, if it had, it would have felt unrealistic. Instead, Kylie and Jonathon started out as friends (with quite a few benefits), then turned into something more as they got to know each other. And, the chemistry between them was there from the start and it certainly turned the heat up. I thought they were a lovely couple.
The plot was fast paced and I was hooked the entire way though. There were a few unexpected twists along the way that kept the book from being cliche. I really enjoyed the story and the ending was absolutely perfect.
Shatter
was an absolutely wonderful New Adult romance. I really liked this fantastic book, from the deep emotions, to the lovely romance and the enjoyable story. Romance lovers, this book is one you won't want to miss.
*I received a complimentary copy from the publisher in exchange for an honest review