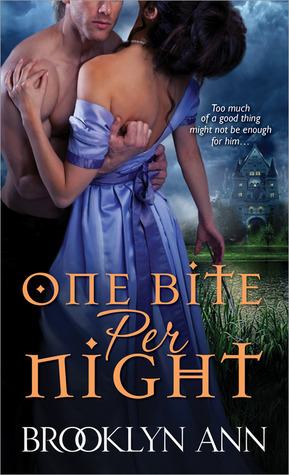 Release date: August 5, 2014
Publisher: Sourcebooks Casablanca
Genre: Historical (Regency)/Paranormal Romance
Series: Scandals with Bite #2

The Dowager Countess of Morley asks Vincent Tremayne, Lord Vampire of Cornwall, to become guardian of her American granddaughter. Vincent honors the agreement and plans to get his new ward married and off his hands as soon as possible.

When Lydia Price arrives, she soon turns Vincent's gloomy castle upside-down, and he decides he wants Lydia for himself. But if Vincent can't protect Lydia from her entanglement with scandalous portrait painter Sir Thomas Lawrence, the vampire community will make sure that he—and Lydia—face dire consequences..


My Rating: 4 Roses
A delightful mix of historical and paranormal romance,
One Bite Per Night
was a wonderful read. I really liked this book. It was a lovely romance and I really enjoyed reading it.
Lydia was a good heroine, though I'm a bit torn about her. On one hand, I liked that she was strong and independently-minded. She had a unique view on things that brought a lot of freshness to the story. On the other hand, she was waaaaay too impulsive, in a way that often had her getting into stupid (and dangerous) situations and unable to handle to consequences. It was alright the first couple of times, but it came to be a habit with her. Overall, though, I liked her fine.
On that note, it seemed really odd how unconcerned about propriety the characters were. I know we're talking about a collection of vampires and an American girl, but it was to the point that it felt inconsistent with the time period. It kept me from diving into the story completely, because I would stop and question if what the characters were doing was okay within the time period (the answer was often no).
On the brighter side, Vincent was a total sweetie. I loved how dedicated he was, not only to the vampires he had responsibility for, but to Lydia and her well-being. He was wonderful and I adored him.
The romance was lovely. Lydia and Vincent were sweet together. I liked how, from the moment they met, they clicked and there was never any doubt about their feelings (even if they weren't great about articulating them). And, the chemistry between them was hot and it led to some very steamy scenes. I thought they were a wonderful couple.
The plot was well paced and I was kept interested the entire way through. I really enjoyed the story and the ending was lovely.
One Bite Per Night
was a wonderful historical/paranormal romance. I really liked this book. It blended vampires and a historical setting in a way that created a lovely story. Romance lovers, this is a book worth checking out.
*I received a complimentary copy from the publisher in exchange for an honest review