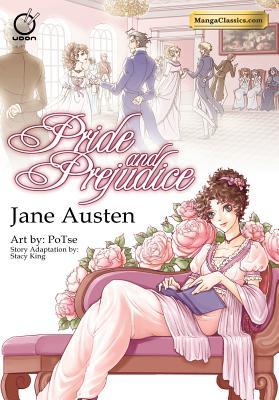 Release date: August 12, 2014
Genre: Classic Adaption



Beloved by millions the world over, Pride & Prejudice is delightfully transformed in this bold, new manga adaptation. All of the joy, heartache, and romance of Jane Austen's original, perfectly illuminated by the sumptuous art of manga-ka Po Tse, and faithfully adapted by Stacy E. King.




My Rating: 5 Roses
I don't normally read manga, but I adore
Pride and Prejudice
, so when I saw this, I had to read it. And, I'm really glad I did! It was an absolutely lovely adaption of the classic and I really liked it. Definitely something any Austen fan would want to read.
The transition from book to manga was well done. All the important scenes were included and everything was well illustrated, from the characters, to the lavish settings of the story. It translated the book to manga, while still staying true to the story, which I really appreciated. Honestly, I thought it was just lovely.
This manga adaption of
Pride and Prejudice
was a success for sure and I really liked it. Austen fans, this is something you'll definitely want to check out.
*I received a complimentary copy from the publisher in exchange for an honest review