Click on the banner for the full schedule.
Welcome to my post for the Strange and Ever After book tour! I have an extra scene from the book coming up, as well as a giveaway for copies of Strange and Ever After. But, first, allow me to introduce the book: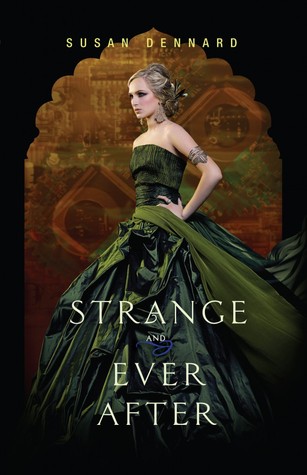 Release date: July 22, 2014
Publisher: Harper Teen
Genre: YA Historical/Paranormal Romance
Series: Something Strange and Deadly #3


In the conclusion to the trilogy that Publishers Weekly called "a roaring—and addictive—gothic world," Eleanor Fitt must control her growing power, face her feelings for Daniel, and confront the evil necromancer Marcus...all before it's too late.

He took her brother, he took her mother, and now, Marcus has taken her good friend Jie. With more determination than ever to bring this sinister man to justice, Eleanor heads to the hot desert streets of nineteenth-century Egypt in hopes of ending this nightmare. But in addition to her increasingly tense relationships with Daniel, Joseph, and her demon, Oliver, Eleanor must also deal with her former friend, Allison, who has curiously entangled herself in Eleanor's mission.

With the rising dead chomping at her every move and Jie's life hanging in the balance, Eleanor is convinced that her black magic will see her through to the bitter end. But there will be a price. Though she and the Spirit Hunters have weathered every battle thus far, there will be consequences to suffer this time—the effects of which will be irreversible. And when it's over, only some will be able to live a strange and ever after.

Susan Dennard will leave readers breathless and forever changed in the concluding pages of this riveting ride

_________________________________________________________________
_________________________________________________________________
Up for grabs is a hardcover copy (US only) and an e-copy (INT) of
Strange and Ever After
. Ends July 22.
Good luck!
a Rafflecopter giveaway
About the Author:
I am a writer, reader, lover of animals, and eater of cookies. I used to be a marine biologist, but now I write novels. And not novels about fish either, but novels about kick-butt heroines and swoon-worthy rogues (I really like swoon-worthy rogues).
I live in the Midwest with my husband and two dogs (Asimov and Princess Leia), and you can learn more about my crazy thoughts and crippling cookie-addiction on my
blog
or
twitter
.
My debut, SOMETHING STRANGE AND DEADLY is now available from HarperTeen along with the prequel, A DAWN MOST WICKED, and the sequel A DARKNESS STRANGE & LOVELY.
Look for STRANGE & EVER AFTER in summer 2014 and TRUTHWITCH in fall 2015!
Note: I am on Goodreads to READ. So, if you want to discuss books and the joys of literature, add me as a friend