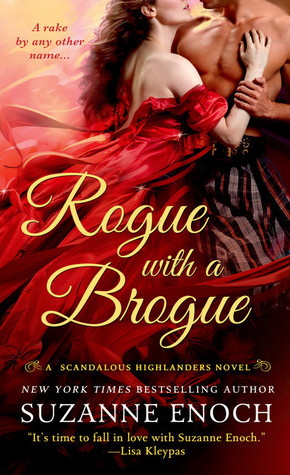 Release date: July 29, 2014
Publisher: St. Martin's Paperbacks
Genre: Historical (Regency) Romance
Series: Scandalous Highlanders #2

A Rogue For Every Lady

London, 1817: Stuck in a Mayfair ballroom, thanks to his lovestruck brother, Highlander Arran MacLawry wants nothing but a bit of distraction from an arranged betrothal—and a clever auburn-haired lass in a vixen's mask promises just that . . . until he discovers that she's the granddaughter of the Campbell, chief of clan MacLawry's longtime rival. Despite their families' grudging truce, falling for fiery Mary Campbell is a notion too outlandish even for this Highlander…

The Thrill Of The Forbidden

Raised on tales of savage MacLawrys, Mary is stunned to realize the impressively strapping man in the fox's mask is one of them. Surely the enemy shouldn't have such a broad chest, and such a seductive brogue? Not that her curiosity matters—any dalliance between them is strictly forbidden, and she's promised to another. But with the crackling spark between them ready to catch flame, love is worth every risk…


My Rating: 5 Roses
An absolutely wonderful historical romance, Rogue with a Brogue was a fantastic read. I loved this book! With its sweet romance, skillful suspense, and enjoyable story, it was a perfect read.
Mary was a wonderful heroine. She was strong and independently minded, refusing to let others rule her life. And, she was also a kind-hearted, genuinely likable character. I thought she was lovely.
Arran was amazing. He was so sweet and, when this man fell, he fell hard. Nothing could stop him from being with the woman he loved, not even a centuries old feud. He was clever, sweet, and I totally loved him.
The romance was jut lovely. Mary and Arran were so wonderful together. They were both very strong and willing to fight for what they wanted. I really appreciated that they didn't bother with denial. Instead, once they both recognized their feelings for each other, they were willing to do anything to hold on to each other. Not to mention the chemistry between them. I thought they were a perfect couple.
The plot was fast paced and I was hooked the entire way through. Throughout the book, as Mary and Arran were on the run, the suspense and the constant worry that they would be caught kept me on the edge of my seat. I loved the story and the ending was perfect.
Rogue with a Brogue was a brilliant historical romance. I absolutely loved this book! Everything about it was just lovely and I enjoyed it from start to finish. Romance lovers, this book is a must read.
*I received a complimentary copy from the publisher in exchange for an honest review