Welcome to my post for the Oceanborn book blitz! I have a review coming up, as well as a giveaway for a mystery box of Harlequin titles. But, first, allow me to introduce the book: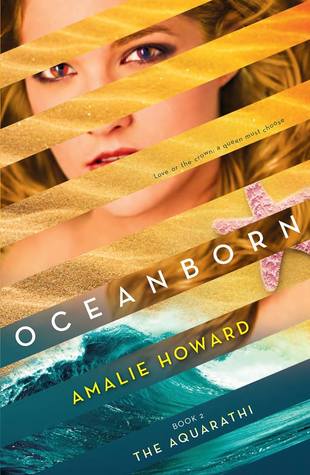 Release date: July 29, 2014
Publisher: Harlequin Teen
Genre: YA Paranormal Romance
Series: The Aquarathi #2


The coronation is over.

But the battle has just begun.

Nerissa Marin has won her crown. But can she keep it? Already, her ties to the human realm are driving a wedge between Nerissa and her people. When word arrives that her part-human prince consort, Lo, has been poisoned, she makes the difficult choice to leave Waterfell and return landside. As the royal courts debate her decision, even more disturbing rumors surface: a plot is rising against her, led by someone she least expects.

On land, Nerissa learns another shocking truth: Lo does not remember who she is. As her choice to try to save him threatens her hold on her crown, changing loyalties and uncertainty test her courage in ways she could never have imagined. Nerissa will have one last chance to prove herself as a queen …and save the undersea kingdom she loves.

A brilliant sequel that managed to top the first, Oceanborn was a fantastic YA read. The stakes were upped, the characters grew, the romance deepened, and the ending left me wanting more. I absolutely LOVED this book!

Nerissa was my least favorite part of book 1. I had found her to be selfish, more concerned with running away from her problems than being a good leader to her people. But, in this book, she proved what a strong queen she could be. She was determined to do what was best for her people, whether Aquarathi, hybrid, or human. She really became an admirable character and I ended up really liking her.

Lo was as amazing as ever. Even with memory loss, he was sweet and utterly adorable. He stood by Nerissa, no matter what, even if it meant facing the suspicion of the Aquarathi. He was wonderful and I loved him even more in this book.

The romance was lovely. I thought it was so sweet that, despite Lo's memory loss, they still had a bond that transcended memory. Nerissa and Lo were steadfastly loyal to each other, determined to stand by each other, no matter the situation. I thought they were a perfect couple.

The plot was fast paced and I was hooked the entire way through. There were a few twists along the way, along with some thrills as Nerissa dealt with the danger facing her people. I loved the story and the ending was a cliffhanger that has me itching to get my hands on book 3. Can't wait to read it!

Oceanborn was a fantastic YA paranormal romance. I absolutely loved this book. It had everything that made book 1 so good and did it better. Fans of book 1, you will love this one. And, YA lovers, this is a series you'll definitely want to check out.
*I received a complimentary copy from the publisher in exchange for an honest review
_________________________________________________________________
Up for grabs is a mystery box of Harlequin books.
Good luck!
a Rafflecopter giveaway
About the Author:
AMALIE HOWARD grew up on a small Caribbean island where she spent most of her childhood with her nose buried in a book or being a tomboy running around barefoot, shimmying up mango trees and dreaming of adventure. 22 countries, surfing with sharks and several tattoos later, she has traded in bungee jumping in China for writing the adventures she imagines instead. She isn't entirely convinced which takes more guts.
She is the author of several young adult novels critically acclaimed by Kirkus, PW, and Booklist, including Waterfell, The Almost Girl, and Alpha Goddess, a Spring 2014 Kid's INDIE NEXT title. Her debut novel, Bloodspell, was an Amazon bestseller and a Seventeen Magazine Summer Read. As an author of color and a proud supporter of diversity in fiction, her articles on multicultural fiction have appeared in The Portland Book Review and on the popular Diversity in YA blog. She currently resides in New York with her husband and three children. Visit her at
www.amaliehoward.com
.