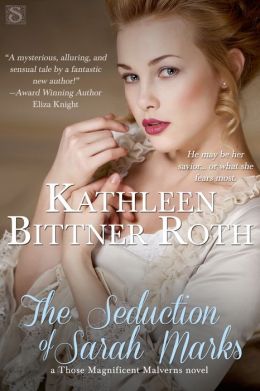 Release date: June 9, 2014
Publisher: Entangled: Scandalous
Genre: Historical (Victorian) Romance

England, 1857

After a blow to her head, Sarah Marks awakens in a strange bed with a strange man and no memory of how she got there. Her handsome bedmate, Lord Eastleigh, tells her she's suffering from amnesia, and the best course of action is to travel home with him until she recovers her memory.

Lord Eastleigh has his own reasons for helping Sarah and keeping her close. Reasons he cannot tell her. As they struggle to restore her memory, their undeniable, inadvisable attraction grows—until Sarah finally remembers the one thing that could keep them apart forever.


My Rating: 5 Roses
A lovely and enjoyable historical romance,
The Seduction of Sarah Marks
was a fantastic read. I absolutely loved this delightful book. With sweet romance and shocking secrets that managed to take me by surprise, this book was wonderful.
Sarah was a lovely heroine. Despite being stuck in a chaotic situation, she kept herself together. She was quietly strong and resilient, considering how she handled everything she went through (before and after her memory loss). I thought she was great and I really liked her.
Eastleigh was wonderful. I loved how devoted and gentle he was with Sarah, determined to help her regain her memory. He had a dark and troubled past of his own but, even after going through all of it, he remained a kind and very sweet man. I thought he was adorable.
The romance was lovely. Sarah and Eastleigh were great together. I appreciate that they weren't the type to stubbornly stick to pride and, instead, knew when to apologize or forgive. There was some heat there as well, and it spiced things up. They were a perfect couple.
The plot was fast paced and I was hooked the entire way through. There were a few twists along the way as secrets were revealed and they actually took me by surprise. I really enjoyed the story and the ending was lovely.
The Seduction of Sarah Marks
was a brilliant historical romance. I absolutely loved this book. From the romance, to the secrets, this story was a delight. Romance lovers, this is a book you won't want to miss.
*I received a complimentary copy from the publisher in exchange for an honest review