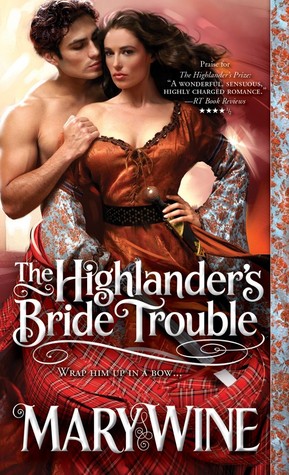 Release date: June 3, 2014
Publisher: Sourcebooks Casablanca
Genre: Historical (Highlander) Romance
Series: The Sutherlands #4

Has this savage Highlander finally found a woman to tame him?

Nareen Grant is confident, well-educated, and quick with a dagger. So when her brother, Kael, unknowingly sends her to live at a cousin's secret brothel, she escapes to court where she meets the arrogant Highlander, Saer MacLeod…

Saer is considered savage even by most Highlanders. It will take an extraordinary woman to handle him, and Nareen enchants him like no one he's met before. When a furious Kael threatens revenge against the cousin who wronged his sister, Saer knows its his one chance to win over Nareen and reclaim the respect his family deserves…and he's going to take it.


My Rating: 3 Roses
An enjoyable historical romance,
The Highlander's Bride Trouble
was a lovely book. I really liked this book and I enjoyed reading it.
Nareen was a good heroine. She was strong enough to survive what her greedy cousin put her through and was determined not to leave herself in a vulnerable position again. However, there were a few things about her that bothered me. 1) From her experience, she decided that all men were terrible. Kind of understandable, but it was a few months experience versus the years of good memories she had of the men in her life, particularly her brother, who never treated her less because of her gender (which made it even more annoying that she spent a while blaming him for her troubles, even though he truly didn't know the nature of their cousin). 2) She was often stubborn for the sake of stubbornness and argued for the sake of arguing, even if that meant lying about what she really thought and felt. And, 3) she did a lot of saying 'no' when she meant 'yes'. For example, when Saer was pressing the issue of marriage, Nareen was saying that she refused to get married. However, as soon as it seemed like her was bowing to her wishes, she would be upset and disappointed. Seriously? Why do you have to play those games?
Despite all this, I didn't dislike her. She wasn't my favorite heroine, but I was okay with her, overall.
Saer, on the other hand, was a delight. He was very sweet and loyal to his clan and determined to lead his clan into prosperity. I liked that, while he was intent on winning Nareen over and could be (annoyingly) highhanded, he always made it clear that it was her choice to be together and that he wouldn't force her into it. But, he also wouldn't take a false 'no' when her actions told a different tale than her words. Despite everything, he was really sweet and devoted to Nareen. I thought he was great and I really liked him.
The romance was good. My one issue with it was that, because of Nareen, it tended to go in circles and it wasn't until the last couple of chapters that she broke that cycle. However, when she wasn't being stubborn, I thought they were sweet together. They both understood each other implicitly and it made them a lovely couple. Not to mention the super hot chemistry between them. Tons of steaminess with these two. I thought they were a great couple.
The plot was well paced and I was kept interested the entire way through, thought there were some parts that dragged.. I enjoyed the story and the ending was lovely.
The Highlander's Bride Trouble
was a wonderful historical romance. It wasn't perfect, but I did enjoy reading it. It was a sweet and lovely read. Romance lovers, this is a book you might want to check out.
*I received a complimentary copy from the publisher in exchange for an honest review