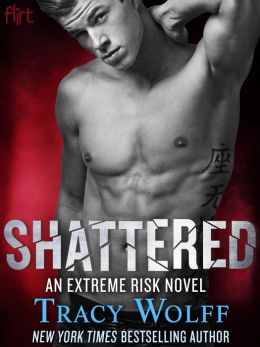 Release date: May 20, 2014
Publisher: Random House: Flirt
Genre: New Adult Contemporary Romance
Series: Extreme Risk #2

The Extreme Risk series—Tracy Wolff's edgy, emotional take on the New Adult genre—continues with the story of a lost soul and the fearless beauty who inspires him to take a flying leap back into life.

Ash Lewis has poured every last ounce of his blood, sweat, and tears into reaching the very top of the professional snowboarding world—until the unthinkable happens. After the biggest competition win of his career, Ash's mother and father are killed in a tragic accident. Unable to handle the idea of going back out on the snow to pursue the dream his parents shared with him, Ash feels that he has no choice but to walk away from snowboarding forever. Then he meets Tansy Hampton.

Wild, fun, and impulsive, Tansy has a different look and a new passion every week. As a cancer survivor who spent the past several years waiting to die, Tansy has a fresh perspective on life—even if she doesn't have a clue about what she actually wants to do with it. But she's determined to find out, and that means making the most of her time while she still can.

From the very beginning, their chemistry is intense. But while Ash can't stop chasing the ghosts of what can never be, Tansy stays firmly focused on the possibilities the world holds for her—and for them. She's already picked up the pieces of one shattered life. Now she's determined to help Ash do the same.


My Rating: 5 Roses
An emotional, sweet, gem of a read,
Shattered
was a fantastic New Adult romance. I absolutely loved this book! It was deeply emotional, sweetly romantic, and a truly enjoyable read. Loved it!
Tansy was a lovely heroine. She was very strong and, after years of fighting cancer, she was determined to live life to the fullest. She wasn't the type to back down and was willing to go after what she wanted. Lively and entertaining, she was an imminently likable character. I thought she was great.
Ash was also wonderful. Like Tansy, he had a lot going on. He was in the middle of grieving over his parents' deaths, figuring out how to care for his injured brother, and just trying to keep his life together. And, through it all, he was a sweet guy who was very loyal and protective of those he loved. He was amazing and I adored him.
The romance was both sweet and steamy. I thought Tansy and Ash were perfect together. I liked how they were both exactly what the other needed, and how they helped each other become stronger. And, the chemistry between them was constantly sizzling. There was some serious steaminess going on. I thought they were a lovely couple.
The plot moved quickly and I was hooked the entire way through. I liked how the emotions were portrayed so clearly, in a way that drew me into the characters. I really enjoyed the story and the ending was so sweet. I can't wait to read more from this series!
Shattered
was a brilliant New Adult romance that I absolutely loved. I enjoyed reading it from beginning to end. It was emotional, sweet, romantic, and I loved every bit of it. Romance lovers, this book is a must read.
*I received a complimentary copy from the publisher in exchange for an honest review