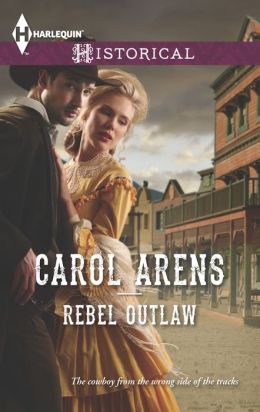 Release date: June 17, 2014
Publisher: Harlequin
Genre: Historical (Western) Romance

LOOKING FOR PEACE, FINDING…TROUBLE

Colt Wesson Travers is headed for a life of tranquility in Texas. Here, he'll finally escape the obligations demanded by his notorious outlaw family.

But when he meets his stubborn lodger, Holly Jane Munroe, his illusions of peace are shattered. Colt is thrown right into the middle of two feuding families intent on winning Holly Jane's hand…and her grandfather's land! He quickly realizes that life with delicious Holly Jane is going to be anything but quiet….


My Rating: 4 Roses
An independently minded miss and the rebel of an outlaw family. An odd couple, yes, but put them together and you have the fun of this book.
Rebel Outlaw
was a wonderful historical romance. I really liked this lovely book. It was a sweet, enjoyable read.
Holly Jane was a good heroine. She was strong and determined not to let anyone rule her fate. For the most part, she was a likable character. There were some moments, though, where her stubbornness bordered idiocy and she was intentionally judgmental just because she was determined not to like someone. But, overall, I liked her.
Colt was wonderful. He came from a family of determined outlaws and, ironically, choosing to be good made him the rebel of the family. He was a steadfastly honorable man, one who had his own moral code that he refused to abandon. He as also very sweet and quite adorable. I thought he was great.
The romance was lovely. Holly Jane and Colt were perfect together. They were both strong willed, so they definitely met their match in each other. The chemistry between them was there from when they met and it led to some hotter moments. I thought they were a lovely couple.
The plot was well paced and I was kept interested the entire way through. I really enjoyed the story and the ending was perfect.
Rebel Outlaw
was a wonderful historical romance. It was a sweet, lovely, and truly enjoyable read. Romance lovers, you'll want to check this book out.
*I received a complimentary copy from the publisher in exchange for an honest review