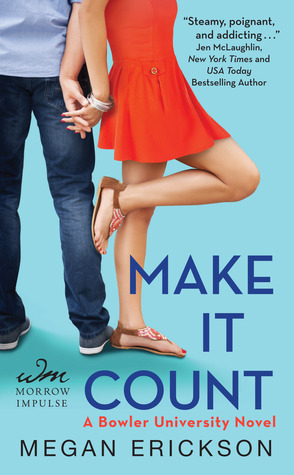 Release date: June 3, 2014
Publisher: William Morrow Impulse
Genre: New Adult Contemporary Romance
Series: Bowler University #1

Kat Caruso wishes her brain had a return policy, or at least a complaint hot-line. The defective organ is constantly distracted, terrible at statistics, and absolutely flooded with inappropriate thoughts about her boyfriend's gorgeous best friend, Alec…who just so happens to be her brand new math tutor. Who knew nerd was so hot?

Kat usually goes through tutors like she does boyfriends—both always seem to bail when they realize how hopeless she is. It's safer for her heart to keep everyone at arm's reach. But Alec is always stepping just a little too close.

Alec Stone should not be fantasizing about Kat. She's adorable, unbelievably witty, and completely off limits. He'd never stab his best friend in the back…

But when secrets are revealed, the lines of loyalty are blurred. To make it count, Alec must learn messy human emotions can't be solved like a trigonometry function. And Kat has to trust Alec may be the first guy to want her for who she is, and not in spite of it.


My Rating: 5 Roses
A fun, sweet, and utterly endearing read,
Make it Count
was a fantastic New Adult romance. I absolutely loved this entertaining book. It was light, romantic, and wonderful from start to finish. Loved it!
Kat was a lovely heroine. I really liked her character development. She grew so much over the course of the book, learning more about herself and finding a way to fully accept it. She comes off as a cliche character, but quickly becomes much more. I really liked her. She was a wonderful character.
Alec was also amazing. He was so sweet and a genuinely nice person at heart. He was loyal to the people he cared about and determined to win the woman he loved. He was just perfect and I totally adored him.
The romance was both sweet and super steamy. Kat and Alec were perfect together. It was always clear that they truly cared for each other, despite any obstacles. And, the chemistry between them was sizzling from the moment they met. Damn, but they had some serious sparks. And, because they were all pent up, it was seriously HOT when they finally got together. I appreciated that the whole betrayal wasn't a melodramatic, overly-angsty plot device. It was important, but it wasn't the whole of the book, and that made the story much more enjoyable. I thought they romance was wonderful.
The plot was fast paced and I was hooked the entire way through. There were a few surprises along the way. The story was light and fun, but still with some serious moments that made it deeper, and I enjoyed every bit of it. And, the ending was so sweet. I loved this first book in the Bowler University series and I can't wait to read the next one! We'll be getting Max's story and it will be great seeing how he redeems himself.
Make it Count
was a wonderful New Adult romance. This book was fun, light, sweet, thoroughly entertaining, and I enjoyed every bit of it. Romance lovers, this is a book you'll definitely want to read.
*I received a complimentary copy from the publisher in exchange for an honest review