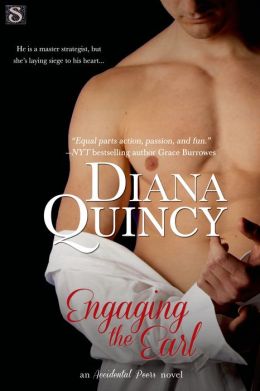 Release date: June 9, 2014
Publisher: Entangled: Scandalous
Genre: Historical (Regency) Romance
Series: Accidental Peers #4

Lady Katherine Granville is the toast of the ton, but society's most eligible miss secretly yearns for her childhood love, an untitled loner who vanished years ago after her father forbade their marriage. Resigned to the reality Edward will never return to her, Kat agrees to marry Sinclair, the charming and attentive viscount who adores her.

After years abroad, the dark and brooding Edward Stanhope returns to England a changed man. He's no longer a second son with no prospects because his brilliant battlefield strategies have won him an earldom. His return should be a victorious one, but the new Earl of Randolph is battling secret demons that no one can discover.

When the man she can't forget reappears at her betrothal ball, Kat's perfectly arranged future is thrown into tumult. A newly minted earl is a rare thing indeed and his sudden appearance captivates all of London. No one more so than Kat, who finds herself torn between two men.

Convinced he is damaged and no longer the man she fell in love with, Edward is cold and distant. Yet neither can resist the draw of deeply held first love and Edward must find a way to free himself of his demons before Kat is lost to him forever.


My Rating: 3.5 Roses
An overall enjoyable romance,
Engaging the Earl
was a lovely read. It wasn't perfect, but I did like it and I did enjoy reading it.
Kat was a good heroine. I liked that she was determined to fight for what she wanted and she refused to settle for less when it came to marriage. I thought she was great and I really liked her.
Edward was a bit frustrating. On one hand, he could be very sweet and I loved how, despite all the years apart, he was still totally devoted to Kat. On the other hand, he could be so frustrating. One minute, he doesn't want to marry Kat because of his PTSD, the next, he can't stand to think about her with someone else. Not only was it irritating, but it was unfair to Kat. Several times, I wanted to smack some sense into him. In the end, he finally realizes how ridiculous he was being, so I ended up being okay with him.
The romance was okay. I thought Kat and Edward were sweet together in how, after so long apart, they both still loved each other. And, the sparks were always flying between them. However, it was frustrating how it went in circles, with one pushing the other away at one moment, then wanting to be together the next. It just went back and forth like that until they both finally saw the light. Overall, though, I thought they were a good couple.
The plot was well paced and I was kept interested most of the way through. There were some parts where the plot slowed down because of a certain someone's stubbornness (I'm looking at you, Edward), but I was kept drawn in. I enjoyed the story and the ending was lovely.
Engaging the Earl
was an enjoyable historical romance. It had its issues, but it was an overall lovely read. Romance lovers, you might want to check this book out.
*I received a complimentary copy from the publisher in exchange for an honest review