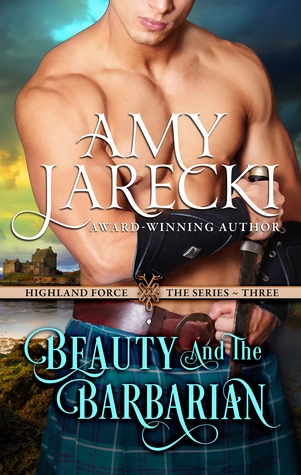 Release date: May 28, 2014
Publisher: Rapture Books
Genre: Historical (Highlander) Romance
Series: Highland Force #3

Born with the mark of the devil, Merrin has been hidden on the islet of Eilean Fladda for near twenty years. When the body of a Highlander washes ashore, the innocent lass presumes him dead. Brushing the hair from the rugged warrior's face, her fingers connect with warm flesh. Warm.

Ian MacLeod wakes to a woman so radiant, he believes her an angel. But when the lass recoils from him, he fears she knows of his evil deeds. While he heals, Ian is stunned when he exposes her witch's mark, yet he's spellbound by Merrin's allure. He'd do anything to erase his haunting past and earn her love.

But there's a henchman after Ian's head, and when that man learns the Highlander is still alive, the couple is forced to flee Merrin's sheltered world. Fighting for survival, destiny demands they each face their demons, but doing so may forever ruin them both.


My Rating: 4 Roses
A sweet and enjoyable historical romance,
Beauty and the Barbarian
was a wonderful read. I really liked this book. It was a lovely addition to a great series.
Merrin was a lovely heroine. Despite the fear and hatred she got from people because of a mark on her neck, she was a strong and kind woman. She was a very sympathetic character, because of all the hatred she endured from almost everyone who saw her mark. It made it even more remarkable that she was still determined to help everyone she could. And, she was tougher than she appeared. I really liked her. I thought she was a great character.
Ian was also wonderful. He was a very kind and compassionate man, the kind who couldn't turn his back on a person in need and wouldn't let superstition dictate his judgement of others. Not to mention the fact that he was quite a formidable opponent if you managed to get on his bad side. He was such a sweetie, and I totally adored him.
The romance was great. Merrin and Ian were perfect together, such a sweet couple. And, the chemistry between them was sizzling with some heat to go along with it. I thought they were wonderful together.
The plot was good. The only weak part of this book was that there were some parts that dragged and it kept me from being totally hooked. However, I was still kept interested the entire way through. There were a few twists along the way that kept things interesting. I enjoyed the story and the ending was perfect.
Beauty and the Barbarian
was a wonderful historical romance. I really liked this book and I really enjoyed reading it. It was a delight of a read. Romance lovers, this is a book you'll want to check out.
*I received a complimentary copy from the publisher in exchange for an honest review